In partnership with PLMA, this group is for practitioners from energy utilities, solution providers, and trade allies to share load management expertise and explore innovative approaches to program delivery, pricing constructs, and technology adoption.
Post
The Future of Home Energy Management
By: Patrice Samuels, Senior Analyst, Parks Associates
Entering 2020, energy providers faced familiar challenges and pursued long standing objectives. These include driving consumer adoption of energy efficiency and demand response programs that minimize utility costs and promote grid stability. Coming out of 2020, grid resilience is at the forefront of utility focus. Cold weather, the dramatic weather events in Texas, wild fires, hurricanes, and non-weather events like cyber security attacks have all exposed grid vulnerabilities. Many are also reevaluating their strategies for distributed energy resources so they serve more to promote grid resilience versus destabilizing the grid.
Distributed energy resources are growing in popularity, driven both by consumer demand for clean energy resources and new legislation. For instance, regulatory changes in California require new buildings to have solar photovoltaic (PV) systems for electricity and regulations in New York promote greater adoption of renewable energy resources. However, high costs, location, residence type, and other circumstances keep many consumers out of the renewables market. Community solar is an interesting new way for consumers to participate in renewables without having solar at home and at a lower cost.
As the COVID-19 pandemic continues to impact US households, perhaps no impact has been greater than the impact on the economy, employment, and ability for people to make ends meet. Parks Associates research reveals that 29% of US consumers in households with broadband internet tell us they are "very concerned" with their ability to pay their bills as of September 2020 – a percentage which increased as the pandemic continued on.
At the same time, consumers have spent more time at home over the past year and residential energy consumption is up. This is leading utilities to evaluate new ways to engage consumers in demand response programs and with solutions to help consumers manage their energy resources. The firm's research shows consumer interest in clean energy solutions has expanded, with 43% of US broadband households stating they would prefer to live in a community powered by solar energy, but low familiarity with energy devices is still a barrier for adoption for most households.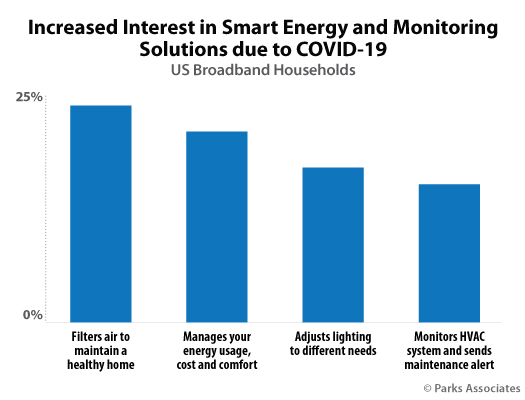 Additionally, lifestyle changes due to COVID-19 have renewed some interest in these solutions as 20% of US broadband households report that COVID-19 has increased their interest in a smart energy solution that would help them manage their energy use, cost, and comfort. 
Consumers are interested in solutions that help them save money on energy bills and high prices that limit accessibility to a broad range of consumers is a barrier to adoption. This is still the leading driver for solar panel sales. For electric vehicles, cost and access to charging stations are the two key barriers to wider adoption, so tax breaks plus sharing information on availability of chargers and distance the car can travel on a charge can help reduce consumer reluctance. While the desire for energy independence and energy stability are key drivers of solar panel purchases, a higher percentage of consumers are driven by the desire to save on their energy bills. Therefore, marketing messages for solar energy equipment, must emphasize the potential energy savings.
There is strong demand for backup power services for the home. Demand for these services may grow in regions where blackouts are more commonplace due to seasonal high demand on the electricity grid or weather emergencies from fires, hurricanes, and winter storm events. Most broadband households are willing to pay modest monthly fees to have a power back-up system as just 40% report they would not pay anything for such a service; a majority would pay $5 - $20 per month. Households with children are more likely to pay for a back-up power system and those taking steps to reduce energy consumption are far more likely to subscribe to a power backup service.
The industry still has to work hard to provide visibility to new clean energy products and emphasize the savings value and price breaks for consumers as nearly one-third of those who do not own solar panels are likely to purchase them if they reduce their energy costs by 50%. Younger consumers are also far more likely to purchase solar panels at any given level of savings on a monthly bill.
Energy provider demand response programs have always involved monetary incentives. Sustained low participation in these programs indicates those incentives are ineffective. Energy providers must consider other alternatives to incentivize participation.
Energy is an important pillar of the converging connected home market. These services, particularly energy management, can attract new customers, increase the stickiness of one's offerings, and ultimately, once the market moves beyond the first generation of offerings, lead to new recurring revenues.
This market will continue to evolve and systems will expand to include management in dynamic pricing environments, management of home-based renewable power generation systems and electric vehicle management. These future opportunities will further expand the market and creates new avenues for recurring revenue.
Elizabeth Parks
Discussions
Spell checking: Press the CTRL or COMMAND key then click on the underlined misspelled word.
Get Published - Build a Following
The Energy Central Power Industry Network is based on one core idea - power industry professionals helping each other and advancing the industry by sharing and learning from each other.
If you have an experience or insight to share or have learned something from a conference or seminar, your peers and colleagues on Energy Central want to hear about it. It's also easy to share a link to an article you've liked or an industry resource that you think would be helpful.