This special interest group is for professionals to connect and discuss all types of carbon-free power alternatives, including nuclear, renewable, tidal and more.
Shared Link
Tesla CEO Elon Musk criticizes hydrogen, fuel cells as 'staggeringly dumb'
With the 1999 success of General Motors' revolutionary EV1 electric vehicle, analysts realized the outlook for the oil industry's #1 product, gasoline, was in peril. In response, oil majors launched a multi-prong attack to  1) discredit electric vehicles, 2) buy up patents on promising battery technologies, including large-format lithium-ion batteries, then "sit on" them (patent encumbrance), 3) disingenuously market hydrogen made from their #2 bestseller, methane ("natural gas"), as a clean fuel.

With the success of Toyota's Prius hybrid vehicle in 2004, things weren't looking good for hydrogen - 100% electric vehicles were the future of consumer transportation. But if oil majors couldn't sell the fuel for electric cars, they could sell the fuel used to make it. So they set about eliminating their #1 competition for generating electricity. It wasn't coal - coal was more expensive and created more carbon emissions. It wasn't solar or wind, which would never pose a significant threat. It was dispatchable, 100% carbon-free nuclear energy.

Now in their death throes, oil majors have been forced to adopt increasingly desperate measures. Some have invested in token solar and wind projects to garner faux-green credibility. Others have worked to create a narrative that brown hydrogen was a bridge fuel to a glorious, 100%-renewable future. Evidently, the public is supposed to believe a day will come when solar and wind energy would create enough green hydrogen to power civilization, when oil companies would say "thanks for the memories", and close their doors.

But clean energy advocates aren't buying it. Now, they envision a day when solar, wind, biomass, geothermal, efficiency, inefficiency, and all the other lies the world's largest industry has invented to stay afloat will go down with the ship. For them, it can't happen soon enough.
Tesla CEO Elon Musk criticizes hydrogen, fuel cells as 'staggeringly dumb'
In a series of Twitter posts, the CEO equated fuel cells to "fool sells," claiming "using a solar panel to split the molecule, then using the hydrogen to power a car, is about half as efficient as just using the panel to charge a car battery."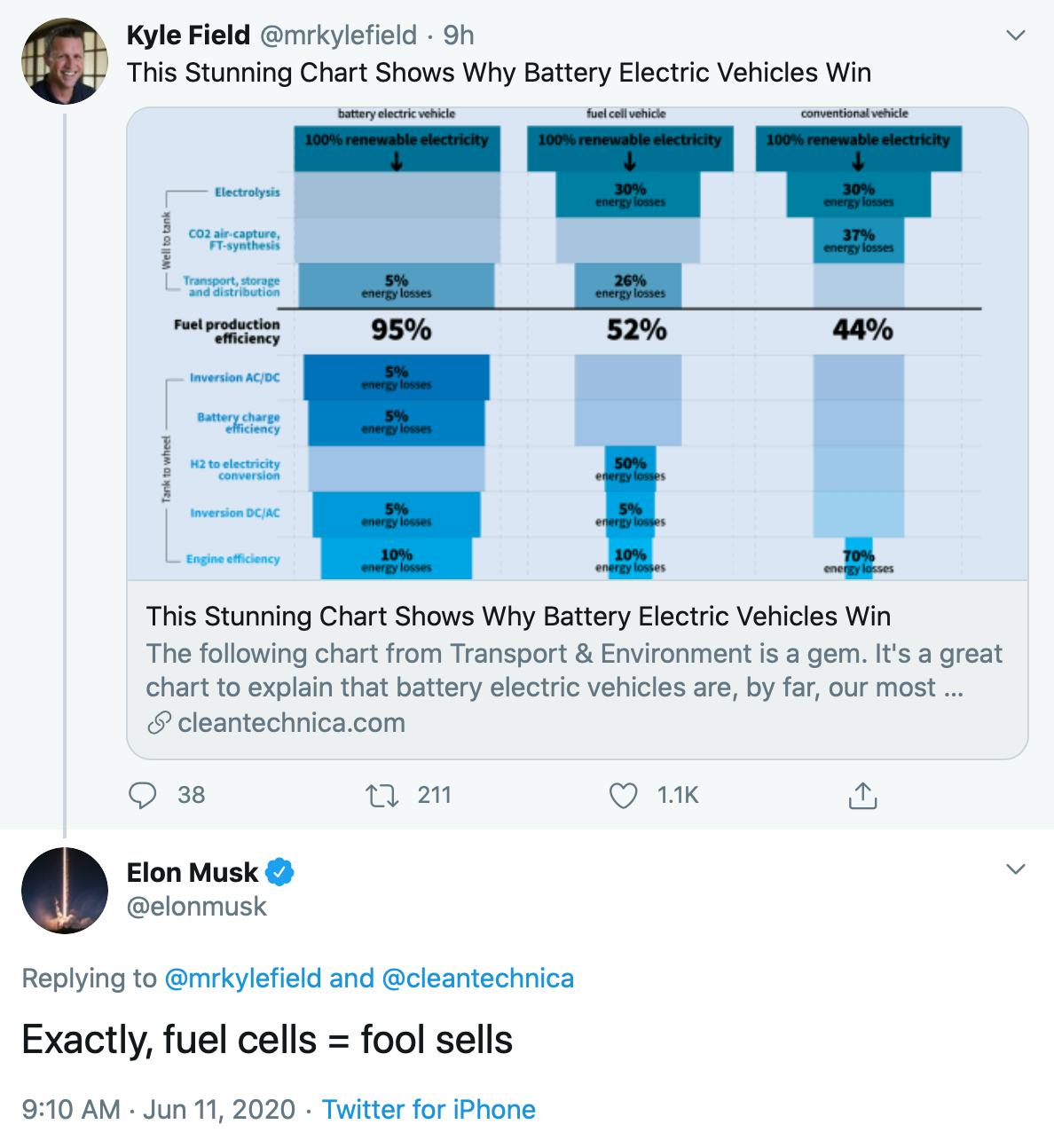 Discussions
No discussions yet. Start a discussion below.
Get Published - Build a Following
The Energy Central Power Industry Network is based on one core idea - power industry professionals helping each other and advancing the industry by sharing and learning from each other.
If you have an experience or insight to share or have learned something from a conference or seminar, your peers and colleagues on Energy Central want to hear about it. It's also easy to share a link to an article you've liked or an industry resource that you think would be helpful.