Senior decision-makers come together to connect around strategies and business trends affecting utilities.
Post
Energy markets are so damn fickle
Three weeks is a long time in energy markets. Before the Christmas break, Europe was enduring a bitterly cold snap characterised by very low wind speeds and strong heating demand. The abysmal performance of France's ageing nuclear fleet placed extra demand on dispatchable power generation. Christmas had come early for natural gas traders, or so it seemed.
The last Energy Flux post of 2022 detailed the eye-watering profits being made by trading houses from shipping LNG to Europe. In theory, each spot cargo of American LNG could make as much as $125 million in profit from shipping gas across the Atlantic. Fast-forward three weeks, and that profit margin has more than halved, to less $60 million throughout Q1 2023.
Not only that, but there are now better profits to be made from shipping the same cargo of US LNG through the Panama Canal to Asia. The 'Asian premium' for gas has returned, but only because Europe – once the market of last resort for LNG – is facing a short-term glut. It is quite the turnaround.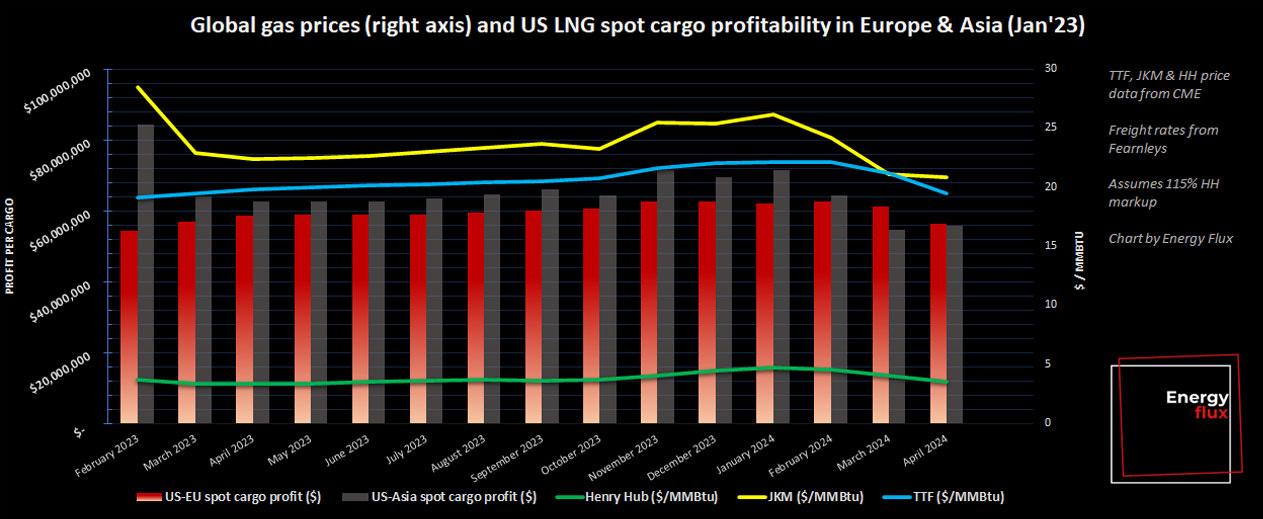 What gives? That cold snap turned out to be mercifully brief for beleaguered European energy consumers. Temperatures soared and wind speeds picked up around Christmas time, sending European gas and power prices plunging as heating demand vanished. German spot power prices – which have at times breached €1,000 per MWh since Russia's full invasion of Ukraine – even flipped negative.
Seb Kennedy
Discussions
No discussions yet. Start a discussion below.
Get Published - Build a Following
The Energy Central Power Industry Network is based on one core idea - power industry professionals helping each other and advancing the industry by sharing and learning from each other.
If you have an experience or insight to share or have learned something from a conference or seminar, your peers and colleagues on Energy Central want to hear about it. It's also easy to share a link to an article you've liked or an industry resource that you think would be helpful.