The Transmission Professionals special interest group covers the distribution of power from generation to final destination. 
Does undergrounding answer the "ultimate sustainability question?" Listen at the 2:00 minute mark for PG&E's CFO's candid comments about undergrounding, sustainability and the future.

PG&E is looking ahead 20 to 50 years (wow!) and making affordable investments today that will position them for tomorrow. That's vision. That's leadership! And, that's exciting!!
CFOs on ESG
CFO Roundtable Part 2, with CMS Energy, Entergy, Hawaiian Electric, PG&E, Portland General, PSEG CFOs.
Source:
www.fortnightly.com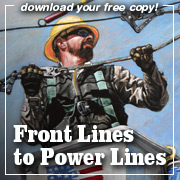 Discussions
Get Published - Build a Following
The Energy Central Power Industry Network is based on one core idea - power industry professionals helping each other and advancing the industry by sharing and learning from each other.
If you have an experience or insight to share or have learned something from a conference or seminar, your peers and colleagues on Energy Central want to hear about it. It's also easy to share a link to an article you've liked or an industry resource that you think would be helpful.