Senior decision-makers come together to connect around strategies and business trends affecting utilities.
Post
In the not-to-distant future, America's biggest electricity grid is anticipating hourly demand swings the size of other U.S. electricity grids
May 20, 2022 12:14 pm GMT
PJM, among the world's largest competitive wholesale electricity markets and the operator of America's largest electric grid for 65 million people in the Mid-Atlantic region, recently published the second phase of its ongoing study of the energy transition and integration of intermittent-renewables onto its grid.
To be clear, this is separate from PJM's other recent analysis envisioning the "grid of the future" and proposing a roadmap to getting there -- I'll cover that another time.
There's a lot of interesting stuff in the renewables-integration study, including the expectation that PJM switches over the next decade or so from having its highest demand in the summer to becoming winter-peaking with less hourly fluctuation in demand. The way rates are designed for retail customers and energy-storage devices will become more important because incentivizing EV charging and other high-demand needs at specific times will have the effect of tripling solar generation's capacity value -- a measure of how much individual generators contribute to meeting the peak demand plus a margin for maintaining service even if there are unexpected surprises.
But for my money, the really intriguing analysis occurs when things are put into context that allow us to make comparisons. Take this slide from this presentation, for example: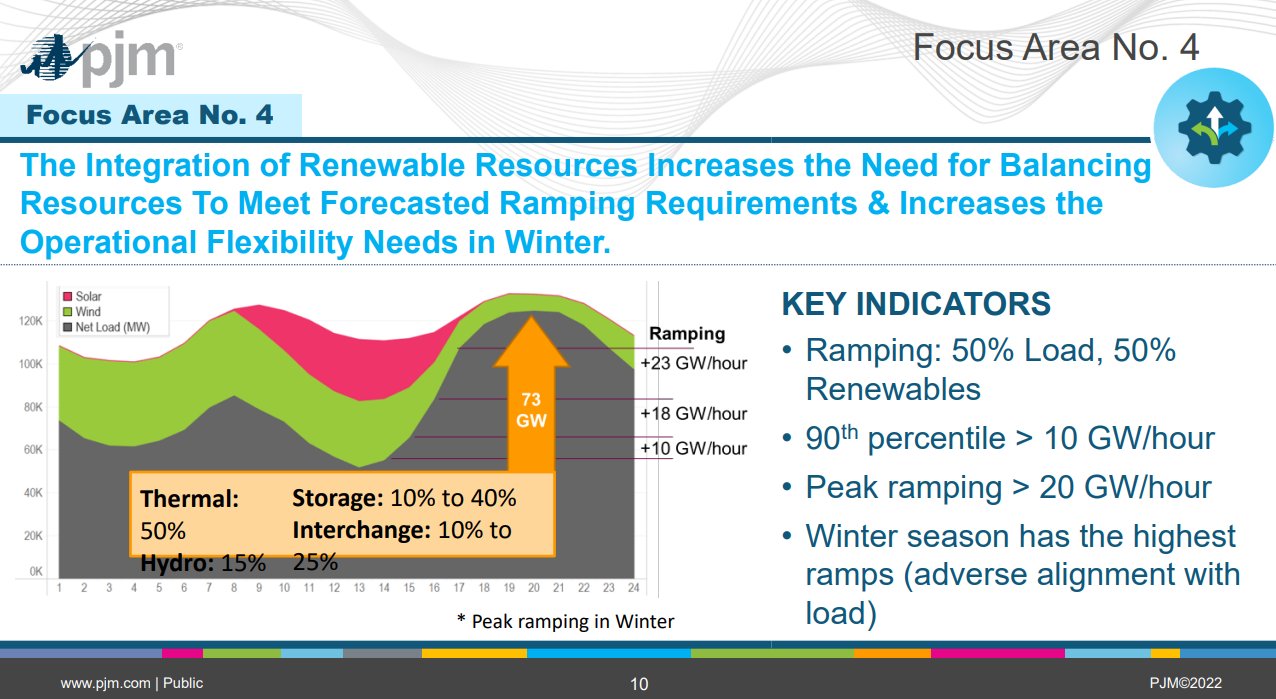 Anyone familiar with the now-infamous "duck curve" in California will recognize a similar issue: by 2035, PJM is expecting that a peak-demand winter day could require a 73-GW ramp up of resources that can respond to dispatch signals -- that is, resources that can raise and lower their output to specific targets on demand, which today only include fossil-fueled thermal generators (Some might argue nuclear units can achieve this to a point, but their flexibility to make big, quick changes is limited.) -- as the production from wind and solar units die down in the afternoon and early evening right as demand is increasing when people come home, turn on lights and adjust the heat.
Now, this may look like the same dilemma that California struggles with, but it's nearly an order of magnitude difference. CAISO's duck curve is perhaps 10 GWs:
In fact, CAISO's peak demand is somewhere around 30 GWs. The record one-day peak for ISO-NE, the grid operator for New England, was 28 GWs. Look at the slide from PJM again: the ramp for the hour from 4 p.m. to 5 p.m. is anticipated to be 23 GWs. That's nearly a ramp of ISO-NE's entire grid in an hour.
The peak demand for ERCOT, the grid operator for the majority of Texas, is right around 75 GWs. That's roughly the size of PJM's anticipated ramp from its trough around 1 p.m. when wind and solar generation are at their max to 8 p.m. when they've almost completely disappeared. So on a peak winter day about a decade from now, PJM dispatchers will have to manage turning on (and then pretty much right back off as everyone then begins to turn off lights in preparation for bed and overnight wind generation begins to pick up again) a Texas-sized amount of power.
That's a lot of highly flexible, highly responsive generation. Given the time horizon, some people might not want to hear this, but the only technology we have to respond like that is natural gas. Even curtailing demand is unlikely to significantly mute a 70-GW swing.
So we'll need a lot of gas-fired plants, but the good news is we wouldn't need them often. The bad news? They'll probably do very little most of the time, but we'll still have to pay them to hang around. We dug into pathways to a carbon-free power supply fairly extensively (though specific to New Jersey) in a recent episode of the GT Power Hour podcast with Princeton University Prof. Jesse Jenkins. Check it out here.
Rory Sweeney
Discussions
Get Published - Build a Following
The Energy Central Power Industry Network is based on one core idea - power industry professionals helping each other and advancing the industry by sharing and learning from each other.
If you have an experience or insight to share or have learned something from a conference or seminar, your peers and colleagues on Energy Central want to hear about it. It's also easy to share a link to an article you've liked or an industry resource that you think would be helpful.