Nov 29, 2018 2:18 pm GMT

777 views
High prices and continued development of shale and tight resources drove proved reserves of both U.S. crude oil and natural gas to new records in 2017, according to EIA's recently released U.S. Crude Oil and Natural Gas Proved Reserves report. Proved reserves of U.S. crude oil increased 19.5% from the end of 2016, reaching 39.2 billion barrels and surpassing the previous peak level of 39.0 billion barrels set in 1970. Proved reserves of natural gas increased 36.1% from the end of 2016 to reach 464.3 trillion cubic feet (Tcf) in 2017, surpassing the previous record of 388.8 Tcf set in 2014.
U.S. crude oil and natural gas proved reserves set new records in 2017
Energy Information Administration - EIA - Official Energy Statistics from the U.S. Government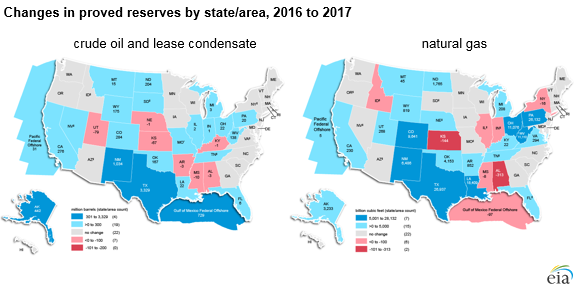 Thank Matt for the Post!
Energy Central contributors share their experience and insights for the benefit of other Members (like you). Please show them your appreciation by leaving a comment, 'liking' this post, or following this Member.