Australia is on track to surpass Qatar as the world's largest liquefied natural gas (LNG) exporter, according to Australia's Department of Industry, Innovation, and Science (DIIS). Australia already surpasses Qatar in LNG export capacity and exported more LNG than Qatar in November 2018 and April 2019. Within the next year, as Australia's newly commissioned projects ramp up and operate at full capacity, EIA expects Australia to consistently export more LNG than Qatar.
Australia is on track to become world's largest LNG exporter - Today in Energy - U.S. Energy Information Administration (EIA)
Energy Information Administration - EIA - Official Energy Statistics from the U.S. Government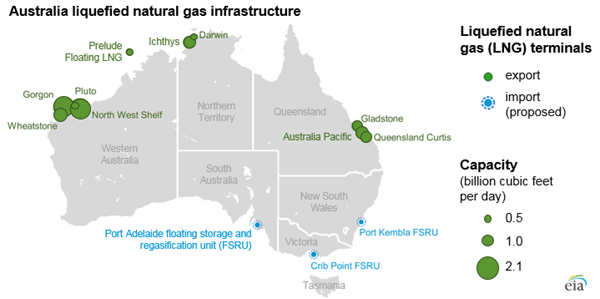 Thank Matt for the Post!
Energy Central contributors share their experience and insights for the benefit of other Members (like you). Please show them your appreciation by leaving a comment, 'liking' this post, or following this Member.