"The new vehicle-to-grid (V2G) pilot project is being conducted in cooperation with the Netherlands/Germany-based grid operator TenneT, the electric vehicle smart-charging solutions provider NewMotion, and the V2G tech and grid-balancing services provider Nuvve. Nuvve currently operates other V2G projects in the US, the UK, Denmark, France, and Netherlands. In the new project, Mitsubishi's role is to provide capacity reserve services through the connection of Mitsubishi Outlander PHEVs connected to the grid, whether at home (using charge points reportedly being provided by Enel) or at one of NewMotion's plug-in electric vehicle charging stations. The platform being used is of course Nuvve's Grid Integrated Vehicle platform (GIVe). Amsterdam was likely chosen as the site of the new V2G pilot project owing to the fact that the Netherlands is host to more than 25,000 Mitsubishi Outlander PHEVs, with Amsterdam being home to a fair many of them."
News Release | Mitsubishi Motors Corporation
Mitsubishi Motors Corporation (MMC) announces the implementation of a 'Vehicle-to-Grid' (V2G) pilot, with the first charge point* already being utilized with Mitsubishi Outlander PHEV's in-vehicle storage batteries. Using V2G-technology, peak demand on the electricity grid can be better balanced, by allowing electric vehicles to not just take power from the grid, but also return it to the network and expect to introduce a new potential earnings model for electric drivers.
Source:
www.mitsubishi-motors.com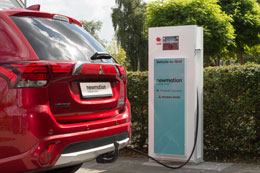 Thank Victoria for the Post!
Energy Central contributors share their experience and insights for the benefit of other Members (like you). Please show them your appreciation by leaving a comment, 'liking' this post, or following this Member.