This group brings together those who are interested in topics around oil and gas exploration, drilling, refining, and processing.
Shared Link
Lubmin, the German village where the pipeline runs dry
Usually, the Baltic Sea is calm. Along the four kilometers of snow-covered beach that form the coastline of Lubmin, in northeast Germany, there's nothing to suggest the presence of the famous Nord Stream pipelines. However, from this town of 2,100 inhabitants in Mecklenburg-Western Pomerania, in the former GDR, the underwater infrastructure that connects St. Petersburg, Russia, to the European continent has been providing cheap gas to all of Germany since 2012. In September 2022, a mysterious explosion damaged those facilities and buried this partnership, which had already been called into question by the invasion of Ukraine on February 24. Since then, the price of gas has almost tripled in the region.
Lubmin, the German village where the pipeline runs dry
On the Baltic Sea coast, the village is the endpoint for the Nord Stream pipelines through which Germany can tap into cheap Russian gas. But since the war in Ukraine, the tap has been turned off.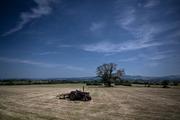 Discussions
Get Published - Build a Following
The Energy Central Power Industry Network is based on one core idea - power industry professionals helping each other and advancing the industry by sharing and learning from each other.
If you have an experience or insight to share or have learned something from a conference or seminar, your peers and colleagues on Energy Central want to hear about it. It's also easy to share a link to an article you've liked or an industry resource that you think would be helpful.