Post
If You're Not Collecting Data, Can You Be Managing Energy At All?
image credit: Source: EIA
Jan 10, 2019 8:20 pm GMT

Jan 10, 2019 8:20 pm GMT

1531 views
In looking around various energy management articles and publication, it seems undeniable that the collection of energy data is critical to the most successful energy management strategies. However, looking at data from the Energy Information Administration shows that less than 80 million advanced/smart metering infrastructure installations are installed across the United States-- 69 million in residential customers, 9 million in commercial, 365,000 in industrial customers, and about 1,400 in the transportation sector. 
While this figure certain represents progress, as only in 2013 did smart meters installed surpass one-way meters and by the end of 2016 total smart meters had doubled since 2010, I was still struck by how much opportunity to install smart meters and for utilities to engage in energy management must still be left on the table.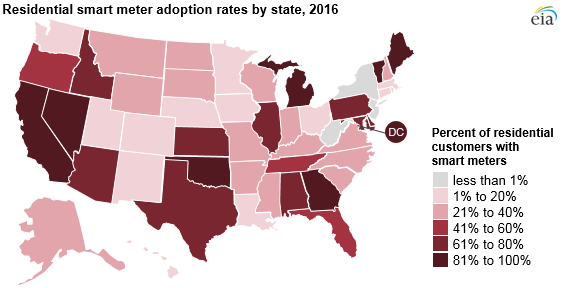 This information is dismaying because the advantages of smart metering would suggest that virtually all customers and their power providers could stand to benefit from their installation, but the optimistic take is that this just means that there's so much more room for growth in this sector. 
The benefits of smart metering to energy management professionals are abundant and clear:
Smart metering allows peak demand reduction, monitor-based commissioning, monitoring of energy retrofits, and actionable intelligence on overall energy use (read more here). Customers will see benefits that include the ability to for automation, engage with a single source of truth regarding their energy systems, and plan out energy strategies (more here). Smart home energy management systems are in optimal model for demand side management from utilities. 
So given all these seeming win-wins for installing smart meters, why are they not installed in a vast majority of electric power customers? Is it the cost? Lack of awareness? Resistance from customers? 
Thoughts?
Matt Chester