Electric power for U.S. customers was interrupted for an average of 7.8 hours (470 minutes) in 2017, nearly double the average total duration of interruptions experienced in 2016. More major events such as hurricanes and winter storms occurred in 2017, and the total duration of interruptions caused by major events was longer. Excluding major events, the average duration of interruptions customers experienced was almost identical in 2016 and 2017, at about 2 hours in both years. In 2017, the average customer experienced 1.4 interruptions counting major events and 1.0 interruption excluding major events.
Average U.S. electricity customer interruptions totaled nearly 8 hours in 2017
Energy Information Administration - EIA - Official Energy Statistics from the U.S. Government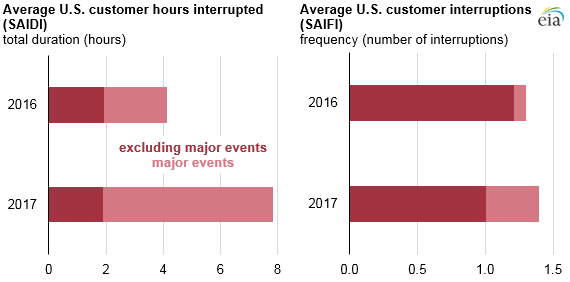 Thank Matt for the Post!
Energy Central contributors share their experience and insights for the benefit of other Members (like you). Please show them your appreciation by leaving a comment, 'liking' this post, or following this Member.