Post
Growing Jobs in the Energy Efficiency Sector in 2019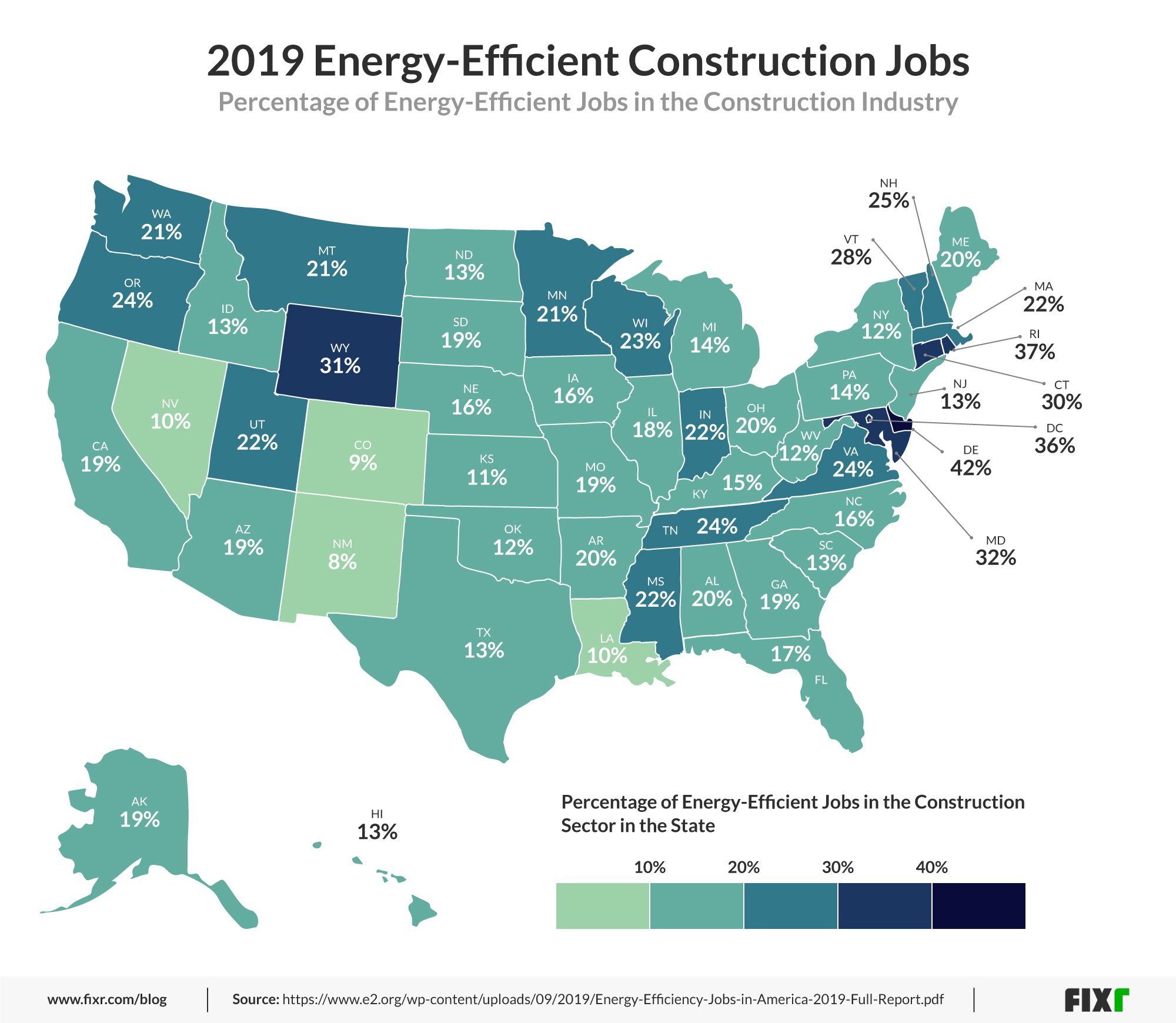 Nov 29, 2019 5:54 pm GMT

Nov 28, 2019 5:34 pm GMT

542 views
Energy efficiency is a growing trend across the country and in all industries. While professionals in the electric utility industry have seen major growth, other industries are beginning to catch up as well. In fact, the construction industry has grown to 55.6% of all energy-efficient jobs in the US, while in general, energy efficiency jobs of all kinds have been found in 99.7% of counties across the country. Numbers in all areas of the energy efficiency industry are going to continue to grow as more people put an emphasis on efficiency and how important it is to their homes, businesses, and budgets.
For those already working in an energy-efficient sector, such as electric utilities, it can be important to keep an eye on other growing sectors. This is because there are many areas that will intersect, leading to potential job growth and more demand for your particular profession across the board.
All industries need energy-efficient experts
Energy efficiency impacts everyone in every field, not just those that actually work with energy-related items or materials. As people realize that impact that efficiency can have on their businesses, they're beginning to create jobs and growth that impacts all industries, but especially those with some degree of intersection. 
For example, there has been enormous growth in technologies such as appliances, lighting, and HVAC - all of which impact the electric utility industry. And while a lot of the growth is tied to areas such as manufacturing (17.7%) and installation (31.7%) there is also a lot of growth in adjacent industries as well, with administration taking up 25% of recent growth and management taking up 13.9%. 
What that means for those in the electric utility industry, is a chance to parlay current skills and expertise into other, fast-growing areas that will need workers with this kind of specialized knowledge. 
Special attention to the Construction Industry 
Given how important the electric utility industry is to the construction industry, it makes sense to pay special attention to how these two areas intersect and how they can benefit one another.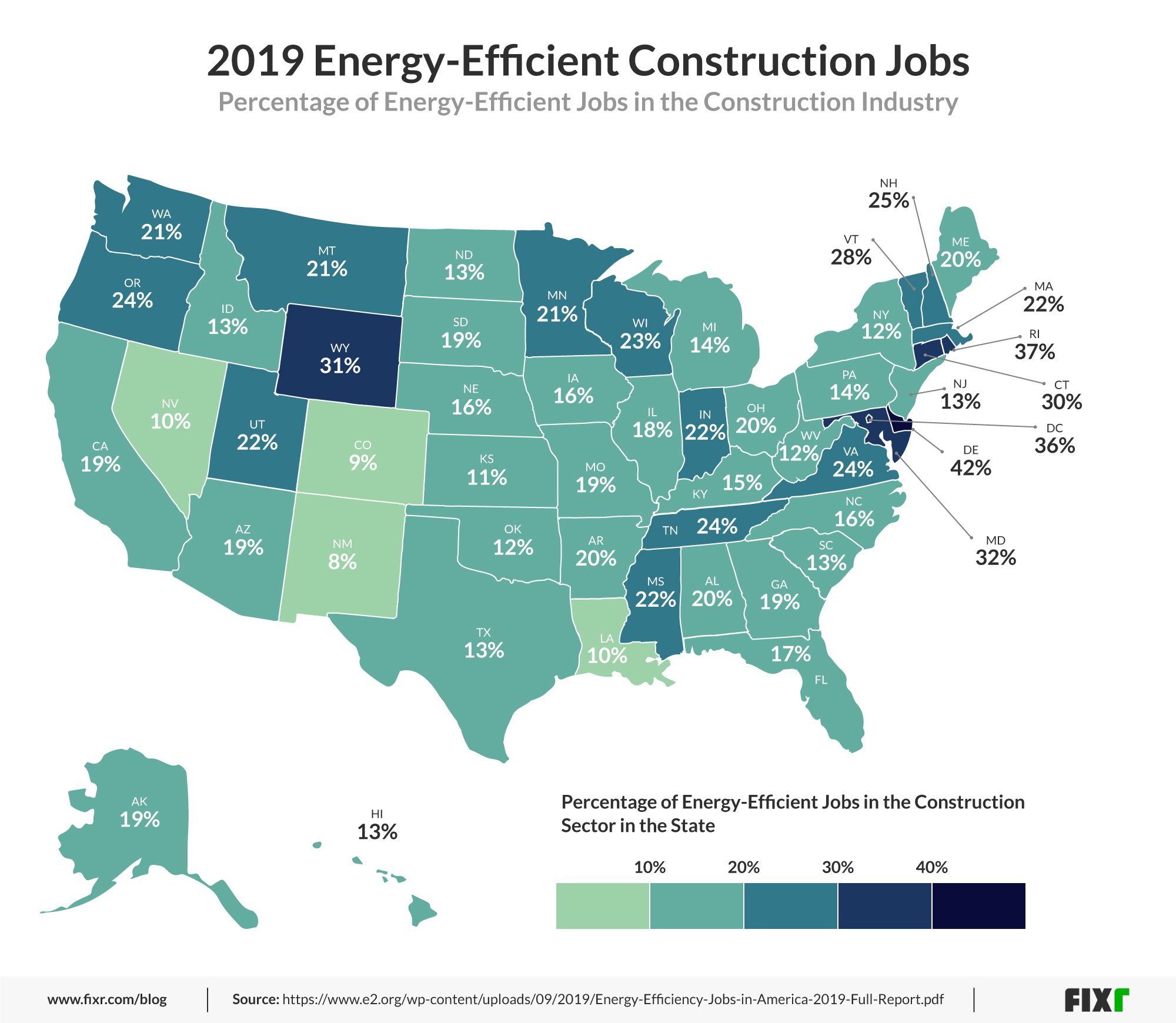 FIXR created this map based on the 2019 Energy Efficiency Jobs in America report by E2. It looks at the percentage of all construction jobs that are energy-efficient for all 50 states. This reveals the true impact that energy-efficient jobs have had on the construction industry, as well as some of the potential for intersection with the electric utility industry; at a minimum, every new home needs new utility hookups, while homes being renovated for energy efficiency need experts who can help them make the right choices for that property.
Energy-efficient professionals may have several different roles within any industry, including the home improvement and construction industries. As energy efficiency becomes more important to homeowners, both to make their homes more comfortable and to save money, more experts in the field are needed to help complete these jobs accurately. This can mean some crossover between existing construction experts and those already working in the electric utility industry. Experts from this industry highly poised to assist with energy audits, material selection or may be able to assist homeowners and construction pros in determining the right appliances in common remodels. Because energy efficiency impacts areas such as HVAC, appliances, lighting and electricity, building materials, insulation, gaining LEED certification, and energy audits, there is enormous potential for intersection and growth within your own industry. 
Big Opportunities for Energy-Efficiency Experts 
The growth realized in energy-efficient jobs thus far is only the beginning of what is to come. As the demand for energy-efficient buildings, lighting, appliances, and HVAC systems continues to grow, we are likely to see a surge in energy-efficient jobs in all industries, including construction. And that means that experts who are looking to expand are currently in the best position to begin growing their businesses more effectively in the near future. 
This is likely to be seen nationwide, and especially so in those states that have not yet fully embraced energy-efficient jobs in all areas or who have not fully realized their potential. This means that there is a tremendous opportunity waiting for energy-efficient experts. If you're looking for a new job or career growth, there are ever-increasing options for the savvy utility expert. Whether you partner with an existing company to combine services or you begin learning a new trade, the potential for business growth and opportunity may very well exceed expectations.
Cristina Miguelez
Thank Cristina for the Post!
Energy Central contributors share their experience and insights for the benefit of other Members (like you). Please show them your appreciation by leaving a comment, 'liking' this post, or following this Member.