This group brings together the best thinkers on energy and climate. Join us for smart, insightful posts and conversations about where the energy industry is and where it is going.
Post
UN aviation agency sets a new standard for sustainable flight by adopting critical fuels criteria
By Guest Author
This blog post was authored by Pedro Piris-Cabezas, Director of Sustainable International Transport & Lead Senior Economist at Environmental Defense Fund, and Anna Stratton, Consultant.
As the world convened for COP 26, the United Nation's civil aviation body announced a major milestone in the transition to sustainable flight by adopting an expanded set of sustainability criteria for sustainable aviation fuel (SAF).  
SAF — jet fuel made from renewable feedstock instead of fossil fuels — provides a distinct opportunity to put aviation on a pathway to net-zero climate impact by 2050. But, to achieve that level of success, the SAF that airlines will use to be eligible for ICAO's emissions reduction program, the Carbon Offsetting and Reduction Scheme for International Aviation (CORSIA), must meet a high standard of environmental integrity, and be accurately tracked and accounted for. Indeed, not all alternative fuels are equal. Some make environmental problems worse. Deploying SAF without a robust accounting and sustainability framework could negate the entire climate benefits and even increase emissions several-fold compared to fossil jet fuels. 
ICAO Council Members seized the opportunity to set these forward-looking sustainability safeguards, ensuring that SAF eligible under CORSIA lives up to its sustainability potential.  
Not only is this decision a major milestone for ICAO, it is also the first time a UN body has defined and operationalized a clear standard for what constitutes sustainability for a mitigation action. It includes full-fledged monitoring, reporting and third-party verification system including a high level of assurance, which makes CORSIA the most comprehensive SAF Framework adopted to date. 
ICAO's decision also sends a clear signal to countries embarking in SAF policy: support for SAF must include robust environmental safeguards.  
The Council's adoption of the SAF sustainability criteria is a turning point in the aviation sector's journey to decarbonize—but it is far from its final destination. Now, countries, airlines, and fuel producers must take action to jump-start high-integrity SAF by shaping their national SAF policies accordingly. 
What's in the SAF sustainability criteria?
The newly adopted sustainability criteria takes a robust and equitable approach, placing environmental and social safeguards on the production of SAF. Ensuring that every country and aviation industry leader strives for these same values of climate ambition, environmental integrity, human rights, and social equity will be critical to the success of SAF. 
To be eligible under ICAO's CORSIA, SAF must be produced in line with the following criteria: 
NOTE: These Sustainability Themes, Principles and Criteria were recommended by CAEP at its 2017 Steering Group Meeting (CAEP Report 11th meeting, DOC 10126). The version finally adopted by Council contains some enhancements, but should not change fundamentally. The new version will be publicly released as an amendment to the ICAO CORSIA Document with the Sustainability Criteria.  
1. SAF must reduce emissions. 
The criteria ensures that SAF provides meaningful emissions reductions, counted across the full lifecycle of the fuel from feedstock to flight, and including key indirect environmental effects such as indirect land use change.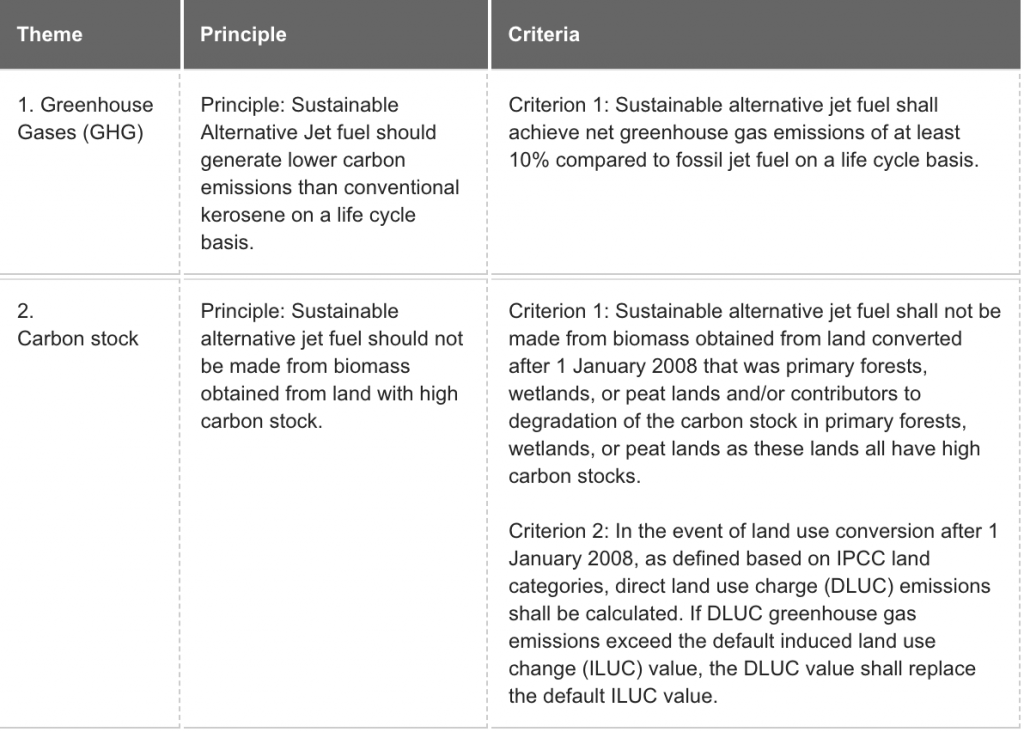 2. SAF must protect ecosystems and natural resources. 
The robust set of sustainability criteria also includes environmental safeguards against negative environmental effects that are not captured by the lifecycle emissions assessment—defending water quality, soil health, air quality and biodiversity.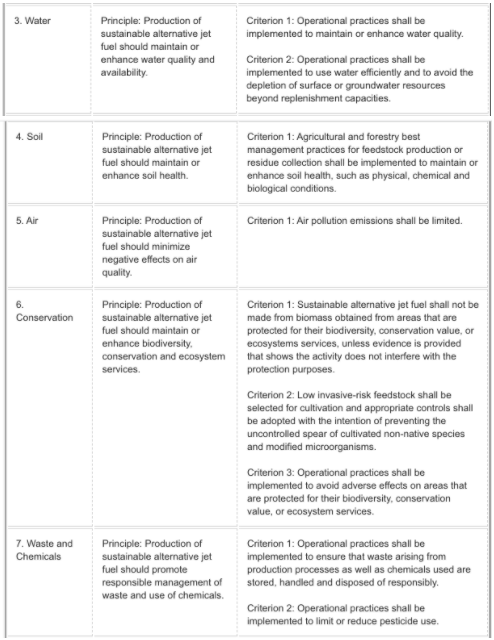 3.
SAF must not present risks to human rights, food security, or local economies.
Ensuring that SAF feedstock production does not present social risks, ICAO prioritized the inclusion of human and labor rights, land use rights and water use rights for local and indigenous communities.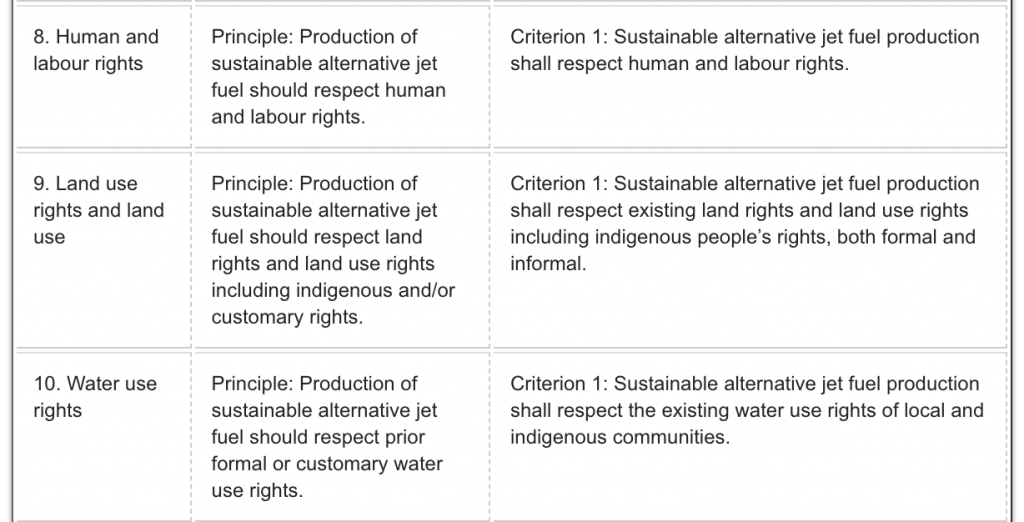 4.
SAF must promote the achievement of the UN Sustainable Development Goals.
As a United Nations body, ICAO included in its new sustainability criteria that SAF  contribute to the achievement of two key UN Sustainable Development Goals (SDGs): eliminating poverty and promoting food security.  


 This new sustainability criteria is designed to ensure the future of flight allows travelers to see new horizons, connect with other cultures, visit faraway loved ones and collaborate internationally – while doing less harm to our climate, our environment, and local and indigenous communities. As more countries, airlines, and fuel producers adopt and adhere to this robust criteria, the faster we can reach our destination of a net-zero emissions flight by 2050. 
EDF Energy Exchange
Discussions
No discussions yet. Start a discussion below.
Get Published - Build a Following
The Energy Central Power Industry Network is based on one core idea - power industry professionals helping each other and advancing the industry by sharing and learning from each other.
If you have an experience or insight to share or have learned something from a conference or seminar, your peers and colleagues on Energy Central want to hear about it. It's also easy to share a link to an article you've liked or an industry resource that you think would be helpful.