This group brings together the best thinkers on energy and climate. Join us for smart, insightful posts and conversations about where the energy industry is and where it is going.
Post
Oil Price Decline Leads to Lower Tax Revenues in Top Oil-Producing States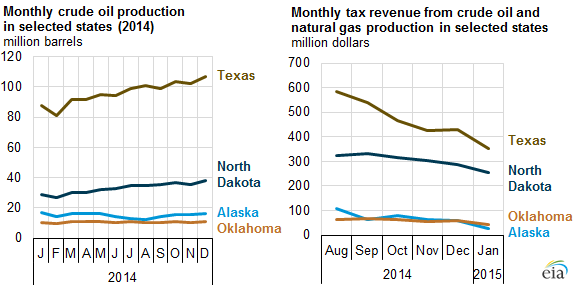 The decline in spot oil prices in the last half of 2014 and first month of 2015 has reduced oil and natural gas production tax revenues in some of the largest oil- and natural gas-producing states.
Texas, North Dakota, Alaska, and Oklahoma are four of the five top oil- and natural gas-producing states, and they derive a significant share of their unrestricted operating revenues from taxes on oil and natural gas production. Although California produces more oil than both Alaska and Oklahoma, its economy is much larger, making it relatively less affected by changes in oil and natural gas prices and production.
The production estimates and tax data referenced in this story are preliminary and are subject to change.
Principal contributors: John Krohn, Robert McManmon
U.S. EIA: Today in Energy
Discussions
Spell checking: Press the CTRL or COMMAND key then click on the underlined misspelled word.
No discussions yet. Start a discussion below.
Get Published - Build a Following
The Energy Central Power Industry Network is based on one core idea - power industry professionals helping each other and advancing the industry by sharing and learning from each other.
If you have an experience or insight to share or have learned something from a conference or seminar, your peers and colleagues on Energy Central want to hear about it. It's also easy to share a link to an article you've liked or an industry resource that you think would be helpful.