This group brings together the best thinkers on energy and climate. Join us for smart, insightful posts and conversations about where the energy industry is and where it is going.
Post
News round-up, March 10, 2023 by GERMÁN & CO
image credit: Germán & Co by Shutterstock
Mar 10, 2023 12:16 pm GMT
Quote of the day… 
"The amount of renewables that we're going to have to build over the next decade is enormous, and I don't think everybody has really digested the scope of that," said Andres Gluski, CEO of energy and utility giant AES Corp.
  REUTERS (CERAWEEK)
---
Most read…
Europe's lenders sucked into global banks rout
The global rout in bank stocks was prompted by Silicon Valley Bank, a major banking partner for the U.S. tech sector, being forced to raise fresh capital after losing $1.8 billion selling a package of bonds to meet depositor demands for cash.
  REUTERS 
Why Russia Has Such a Strong Grip on Europe's Nuclear Power
New energy sources to replace oil and natural gas have been easier to find than kicking the dependency on Rosatom, the state-owned nuclear superstore.
NYT by Patricia Cohen, March 10, 2023.
Prosecutors Signal Criminal Charges for Trump Are Likely
The former president was told that he could appear before a Manhattan grand jury next week if he wishes to testify, a strong indication that an indictment could soon follow.
  NYT BY WILLIAM K. RASHBAUM, BEN PROTESS AND JONAH E. BROMWICH, MARCH 9, 2023
IAEA chief makes plea for Zaporizhzhia safe zone after outage
"Each time we are rolling a dice. And if we allow this to continue time after time then one day our luck will run out," Grossi told the IAEA's 35-nation Board of Governors.
  REUTERS BY FRANCOIS MURPHY 
Fears Grow of New Cold War Between U.S. and China
China and the United States are lurching from one crisis to the next. It's not just deep economic interdependence that is at stake, but also global peace. Is there still a way out of this downward spiral?
  SPIEGEL BY ANN-DORIT BOY, GEORG FAHRION, CHRISTOPH GIESEN, CHRISTINA HEBEL AND BERNHARD ZAND, 09.03.2023
---
---
Europe's lenders sucked into global banks rout
  REUTERS BY ALUN JOHN EDITING BY GERMÁN & CO
LONDON/FRANKFURT, March 10 (Reuters) - A dramatic sell-off in U.S. bank stocks spilled over into Europe on Friday, as some of the region's biggest banks saw their shares tumble in their largest decline in nine months.
Europe's STOXX banking index (.SX7P) fell more than 4% and was set for its biggest one-day slide since early June, with declines for most major lenders, including HSBC (HSBA.L), down 4.5%, and Deutsche Bank (DBKGn.DE), down 7.9%.
Shares in Italy's UniCredit (CRDI.MI) and Intesa Sanpaolo (ISP.MI) also fell sharply.
The global rout in bank stocks was prompted by Silicon Valley Bank, a major banking partner for the U.S. tech sector, being forced to raise fresh capital after losing $1.8 billion selling a package of bonds to meet depositor demands for cash.
Neil Wilson, Chief Market Analyst at Markets.com, said that the episode could be the "straw that breaks the camel's back" for banks after worries about ever higher interest rates and a fragile U.S. economy.
The episode underscored the vulnerability of banks, many of which were propped up by taxpayers' cash following the global financial crisis more than a decade ago. That crash and the economic fallout from the pandemic led central banks and governments to print trillions to support the economy but they are now seeking to rein that in.
Investors in SVB's stock had fretted over whether the capital raise would be sufficient given the deteriorating fortunes of many technology startups that the bank serves.
SVB's CEO Gregory Becker had been calling clients to assure them their money with the bank is safe, according to two people familiar with the matter.
But some startups have been advising their founders to pull out their money from SVB as a precautionary measure, the sources added.
---
Why Russia Has Such a Strong Grip on Europe's Nuclear Power
New energy sources to replace oil and natural gas have been easier to find than kicking the dependency on Rosatom, the state-owned nuclear superstore.
NYT by Patricia Cohen, March 10, 2023.
Europe moved with startling speed to wean itself off Russian oil and natural gas in the wake of war in Ukraine. But breaking the longstanding dependency on Russia's vast nuclear industry is a much more complicated undertaking.
Russia, through its mammoth state-owned nuclear power company, Rosatom, dominates the global nuclear supply chain. It was Europe's third-largest supplier of uranium in 2021, accounting for 20 percent of the total. With few ready alternatives, there has been scant support for sanctions against Rosatom — despite urging from the Ukrainian government in Kyiv.
For countries with Russian-made reactors, reliance runs deep. In five European Union countries, every reactor — 18 in total — were built by Russia. In addition, two more are scheduled to start operating soon in Slovakia, and two are under construction in Hungary, cementing partnerships with Rosatom far into the future.
For years, the operators of these nuclear power plants had little choice. Rosatom, through its subsidiary TVEL, was virtually the only producer of the fabricated fuel assemblies — the last step in the process of turning uranium into the nuclear fuel rods — that power the reactors.
Since the invasion of Ukraine in February 2022, some European countries have started to step away from Russia's nuclear energy superstore.
The Czech Republic's energy company, CEZ, has signed contracts with Pennsylvania-based Westinghouse Electric Company and the French company Framatome to supply fuel assemblies for its plant in Temelin.
Finland canceled a troubled project with Rosatom to build a nuclear reactor and hired Westinghouse to design, license and supply a new fuel type for its plant in Loviisa after its current contracts expire.
"The purpose is to diversify the supply chain," said Simon-Erik Ollus, an executive vice president at Fortum, a Finnish energy company.
Bulgaria signed a new 10-year agreement with Westinghouse to provide fuel for its existing reactors. And last week, it moved ahead with plans for the American company to build new nuclear reactor units. Poland is about to construct its first nuclear power plant, which will feature three Westinghouse reactors.
Slovakia and even Hungary, Russia's closest ally in the European Union, have also reached out to alternative fuel suppliers.

"We see a lot of genuine movement," said Tarik Choho, president of nuclear fuel unit at Westinghouse, adding that the Ukraine war accelerated Europe's search for new suppliers. "Even Hungary wants to diversify."
William Freebairn, senior managing editor for nuclear energy at S&P Commodity Insights, said Russia's march into Ukraine last year in some ways marked "a sea change."
"Within days of the invasion," he said, "just about every country that operated a Russian reactor started looking for alternate supply."
In Ukraine, serious efforts to chip away at Russian nuclear dominance began in 2014 after President Vladimir V. Putin of Russia sent troops to occupy territory in Crimea and the eastern Donbas region. Ukraine, whose 15 Soviet-era reactors provided half the country's electricity, signed a deal with Westinghouse to expand its fuel contract.
It took roughly five years between the start of the design process and the final delivery of the first fuel assembly, according to the International Energy Association.
Ukraine "blazed a commercial trail," Mr. Freebairn said. In June, Ukraine signed another contract with Westinghouse to eventually provide all its nuclear fuel. The company will also build nine power plants and establish an engineering center in the country.
Still, a worldwide turn away from Russia's nuclear industry would be a slog: The nuclear supply chain is exceptionally complex. Establishing a new one would be expensive and take years.
At the same time, Rosatom has proved uniquely successful as both a business enterprise and a vehicle for Russian political influence. Much of its ascendancy is due to what experts have labeled a "one-stop nuclear shop" that can provide countries with an all-inclusive package: materials, training, support, maintenance, disposal of nuclear waste, decommissioning and, perhaps most important, financing on favorable terms.
And with a life span of 20 to 40 years, deals to build nuclear reactors compel a long-term marriage.
Russia's tightest grip is on the market for nuclear fuel. It controls 38 percent of the world's uranium conversion and 46 percent of the uranium enrichment capacity — essential steps in producing usable fuel.
"That's equal to all of OPEC put together in terms of market share and power," said Paul Dabbar, a visiting fellow at the Center on Global Energy Policy at Columbia University, referring to the oil dominance of the Organization of the Petroleum Exporting Countries.
As with oil and natural gas, the cost of nuclear fuel supplies has risen over the past year, putting more than $1 billion from exports into Russia's treasury, according to a report from the Royal United Services Institute, a security research organization in London.
The American nuclear power industry gets up to 20 percent of its enriched uranium from Russia, the maximum allowed by a recent nonproliferation treaty, according to the International Energy Association. France imports 15 percent. Framatome, which is owned by state-backed nuclear power operator, Électricité de France, or EDF, signed a cooperation agreement with Rosatom in December 2021, two months before Russia's invasion, that is still in effect. Framatome declined to comment.
And even with the slate of new fuel agreements in Europe with non-Russian sources, deliveries won't begin for at least a year, and in some cases several years.
Around a quarter of the European Union's electricity supply comes from nuclear power. With pending climate disaster prompting a worldwide push to decrease the overall use of fossil fuels, nuclear energy's role in the future fuel mix is expected to increase.
Still, analysts argue that even without formal sanctions, Russia's position as a nuclear supplier has been permanently compromised.
At the height of the debate in Germany last year over whether to keep its two remaining nuclear power plants online because of the war, their reliance on uranium enriched by Russia for the fuel rods emerged as one of the arguments against extending their lives. The last two reactors are to be shut down next month.
And when Poland's Council of Ministers approved the agreement in November for Westinghouse to build the country's first nuclear power plant, the resolution cited "the need for permanent independence from energy supplies and energy carriers from Russia."
Mr. Choho at Westinghouse was confident about the company's ability to compete with Rosatom in Europe, estimating that it eventually could capture 50 to 75 percent of that nuclear market. Westinghouse has also signed an agreement with the Spanish energy company Enusa to cooperate on fabricating fuel for Russian-made reactors.
But outside the European Union and United States, in countries where support for Russia's government has held up, Rosatom's one-stop shopping and financing remain enticing. Russian-built reactors can be found in China, India and Iran as well as Armenia and Belarus. Construction has begun on Turkey's first nuclear power plant, and Rosatom has a memorandum of understanding with 13 countries, according to the International Energy Association.
As a new report in the journal Nature Energy concluded, while the war "will undermine Rosatom's position in Europe and damage its reputation as a reliable supplier," its global standing "may remain strong."
Seaboard: pioneers in power generation in the country
…Armando Rodríguez, vice-president and executive director of the company, talks to us about their projects in the DR, where they have been operating for 32 years.
More than 32 years ago, back in January 1990, Seaboard began operations as the first independent power producer (IPP) in the Dominican Republic. They became pioneers in the electricity market by way of the commercial operations of Estrella del Norte, a 40MW floating power generation plant and the first of three built for Seaboard by Wärtsilä.
---
Prosecutors Signal Criminal Charges for Trump Are Likely
The former president was told that he could appear before a Manhattan grand jury next week if he wishes to testify, a strong indication that an indictment could soon follow.
  NYT BY WILLIAM K. RASHBAUM, BEN PROTESS AND JONAH E. BROMWICH, MARCH 9, 2023
The Manhattan district attorney's office recently signaled to Donald J. Trump's lawyers that he could face criminal charges for his role in the payment of hush money to a porn star, the strongest indication yet that prosecutors are nearing an indictment of the former president, according to four people with knowledge of the matter.
The prosecutors offered Mr. Trump the chance to testify next week before the grand jury that has been hearing evidence in the potential case, the people said. Such offers almost always indicate an indictment is close; it would be unusual for the district attorney, Alvin L. Bragg, to notify a potential defendant without ultimately seeking charges against him.
In New York, potential defendants have the right to answer questions in the grand jury before they are indicted, but they rarely testify, and Mr. Trump is likely to decline the offer. His lawyers could also meet privately with the prosecutors in hopes of fending off criminal charges.
Any case would mark the first indictment of a former American president, and could upend the 2024 presidential race in which Mr. Trump remains a leading contender. It would also elevate Mr. Bragg to the national stage, though not without risk, and a conviction in the complex case is far from assured.
Mr. Trump has faced an array of criminal investigations and special counsel inquiries over the years but has never been charged with a crime, underscoring the gravity of Mr. Bragg's inquiry.
Mr. Bragg could become the first prosecutor to charge Mr. Trump, but he might not be the last.
In Georgia, the Fulton County District Attorney is investigating whether Mr. Trump interfered in the 2020 election, and at the federal level, a special counsel is scrutinizing Mr. Trump's effort to overturn the election results, as well as his handling of classified documents.
The Manhattan inquiry, which has spanned nearly five years, centers on a $130,000 payment to the porn star, Stormy Daniels, who said she had an affair with Mr. Trump. The payment was made in the final days of the 2016 presidential campaign by Michael Cohen, Mr. Trump's former fixer, who was later reimbursed by Mr. Trump from the White House.
Mr. Cohen, who has long said that Mr. Trump directed him to pay Ms. Daniels to keep her quiet, is expected to testify in front of the grand jury, but has not yet done so.
The district attorney's office has already questioned at least six other people before the grand jury, according to several other people with knowledge of the inquiry.
Mr. Bragg's prosecutors have not finished the grand jury presentation and he could still decide against seeking an indictment.
Mr. Trump has previously said that the prosecutors are engaged in a "witch hunt" against him that began before he became president, and has called Mr. Bragg, a Democrat who is Black, a politically motivated "racist."
"The Manhattan District Attorney's threat to indict President Trump is simply insane," a spokesman for the former president said in a statement, adding: "It's an embarrassment to the Democrat prosecutors, and it's an embarrassment to New York City."
A spokeswoman for the district attorney's office declined to comment.
Mr. Trump, in a long and rambling statement posted on Truth Social said, "I did absolutely nothing wrong." He again denied having had an affair with Ms. Daniels, and insulted her appearance. And he painted Mr. Bragg's investigation as part of a broader conspiracy to bring him down, engineered by his political opponents and dating back to his presidency.
"Russia, Russia, Russia, Ukraine, Ukraine, Ukraine, the no-collusion Mueller hoax," Mr. Trump wrote, an apparent reference to investigations into his campaign and presidency. He and his supporters, he wrote, were "victims of this corrupt, depraved, and weaponized justice system" and accused President Biden and his son, without evidence, of "horrendous crimes."
He alternated those explosive comments with hints of legal arguments that might be deployed if the case is brought, noting, for instance, that alleged crimes in a federal election might make it "a federal case" and referred to the deal with Ms. Daniels as "extortion."
Even if Mr. Trump is indicted, convicting him or sending him to prison will be challenging. The case against the former president hinges on an untested and therefore risky legal theory involving a complex interplay of laws, all amounting to a low-level felony. If Mr. Trump were ultimately convicted, he would face a maximum sentence of four years, though prison time would not be mandatory.
Mr. Trump's lawyers are also sure to attack Mr. Cohen, who in 2018 pleaded guilty to federal charges related to the hush money.
The $130,000 payout came when Ms. Daniels's representatives contacted the National Enquirer to offer exclusive rights to her story about an affair with Mr. Trump. David Pecker, the tabloid's publisher and a longtime ally of Mr. Trump, had agreed to look out for potentially damaging stories about him during the 2016 campaign, and at one point even agreed to buy the story of another woman's affair with Mr. Trump and never publish it, a practice known as "catch and kill."
But Mr. Pecker didn't bite at Ms. Daniels's story. Instead, he and the tabloid's top editor, Dylan Howard, helped broker a separate deal between Mr. Cohen and Ms. Daniels's lawyer. Mr. Trump later reimbursed Mr. Cohen through monthly checks.
In the federal case against Mr. Cohen, prosecutors said that Mr. Trump's company "falsely accounted" for the monthly payments as legal expenses and that company records cited a retainer agreement with Mr. Cohen. Although Mr. Cohen was a lawyer, and became Mr. Trump's personal attorney after he took office, there was no such retainer agreement and the reimbursement was unrelated to any legal services Mr. Cohen performed.
In New York, falsifying business records can amount to a crime, albeit a misdemeanor. To elevate the crime to a felony charge, Mr. Bragg's prosecutors must show that Mr. Trump's "intent to defraud" included an intent to commit or conceal a second crime.
In this case, that second crime could be a violation of New York State election law. While hush money is not inherently illegal, the prosecutors could argue that the $130,000 payout effectively became an improper donation to Mr. Trump's campaign, under the theory that because the money silenced Ms. Daniels, it benefited his candidacy.
Combining the criminal charge with a violation of state election law would be a novel legal theory for any criminal case, let alone one against the former president, raising the possibility that a judge or appellate court could throw it out or reduce the felony charge to a misdemeanor.
This is not the first Manhattan grand jury to hear evidence about Mr. Trump. Before leaving office at the end of 2021, Mr. Bragg's predecessor, Cyrus R. Vance Jr., had directed prosecutors to begin presenting evidence to an earlier grand jury. That potential case focused on the former president's business practices, in particular whether he fraudulently inflated his net worth by billions of dollars in order to secure favorable terms on loans and other benefits.
But Mr. Bragg, soon after taking office last year, grew concerned about the strength of that case and halted the presentation, prompting two senior prosecutors leading the investigation to resign.
Still, the portion of the investigation concerned with Mr. Trump's net worth is continuing, people with knowledge of the matter said.
Defendants rarely choose to testify before a grand jury and it is highly unlikely that Mr. Trump would do so. As a potential defendant, he would have to waive immunity, meaning that his testimony could be used against him if he were charged. Although he could have a lawyer present in the grand jury to advise him, the lawyer would be prohibited from speaking to the jurors, and there would be few limits on the questions prosecutors could ask the former president.
In recent years, Mr. Trump has been wary of answering questions under oath, given the legal intrigue swirling around him. When the New York attorney general deposed him last year in a civil case, Mr. Trump refused to provide any information, availing himself of his Fifth Amendment right to refuse to answer questions more than 400 times over the course of four hours. If he testifies about the hush money to this grand jury, he will not have that option.
---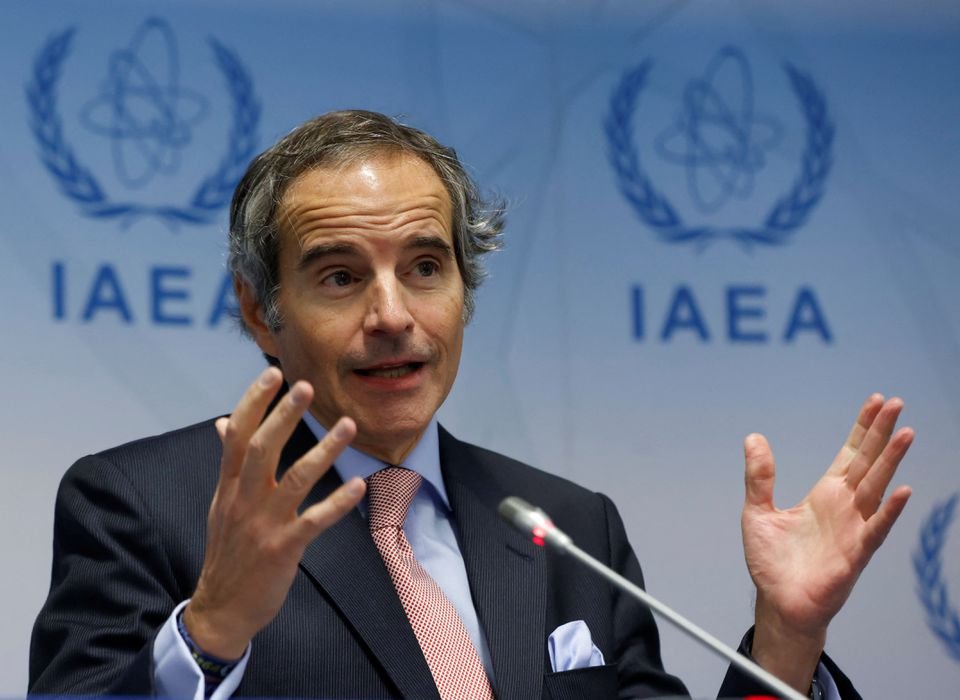 IAEA chief makes plea for Zaporizhzhia safe zone after outage
"Each time we are rolling a dice. And if we allow this to continue time after time then one day our luck will run out," Grossi told the IAEA's 35-nation Board of Governors.
  REUTERS BY FRANCOIS MURPHY 
VIENNA, March 9 (Reuters) - U.N. nuclear watchdog chief Rafael Grossi on Thursday appealed for a protection zone around the Russian-held Zaporizhzhia nuclear power plant in Ukraine after another outage there, saying he was "astonished by the complacency" around the issue.
"Each time we are rolling a dice. And if we allow this to continue time after time then one day our luck will run out," Grossi told the IAEA's 35-nation Board of Governors.
Advertisement · Scroll to continue
Report an ad
Europe's biggest nuclear power plant lost its last external power line early on Thursday after missile strikes across Ukraine overnight.
The plant is now down to emergency diesel generators, a last line of defence to keep cooling reactor fuel and prevent a potentially catastrophic meltdown.
International Atomic Energy Agency (IAEA) Director General Rafael Grossi addresses a news conference during an IAEA board of governors meeting in Vienna, Austria, March 6, 2023. REUTERS/Leonhard Foeger
As in previous attacks, Russia and Ukraine blamed each other. Grossi has been trying to get both sides to strike a deal in which they would pledge not to fire at or from the plant and heavy weapons would be removed, diplomats say.
"This is the sixth time – let me say it again sixth time, that ZNPP has lost all off-site power and has had to operate in this emergency mode," Grossi told the board's quarterly meeting, according to an IAEA statement.
"Let me remind you – this is the largest nuclear power station in Europe. What are we doing? How can we sit here in this room this morning and allow this to happen? This cannot go on. I am astonished by the complacency."
---
Cooperate with objective and ethical thinking…
---
Fears Grow of New Cold War Between U.S. and China
China and the United States are lurching from one crisis to the next. It's not just deep economic interdependence that is at stake, but also global peace. Is there still a way out of this downward spiral?
  SPIEGEL BY ANN-DORIT BOY, GEORG FAHRION, CHRISTOPH GIESEN, CHRISTINA HEBEL AND BERNHARD ZAND, 09.03.2023
In a boxy, pink building in Beijing's diplomatic quarter, sandwiched between the Iranian and the Kazakh embassies, a security guard is standing outside the gate, freezing despite his winter coat. Zhanna Leshchynska's office is located in the building behind him, Ukraine's chargé d'affaires in Beijing. Two years ago, her boss died of a heart attack, and she has been running the diplomatic representation ever since. It's a herculean task: Her country is at war, but no one in China's capital seems much to care.
It takes exactly 27 minutes to walk around the Russian Embassy in Beijing. Several apartment buildings, office towers, a hospital, two sports fields and a park are part of the huge Russian enclave over which Moscow's ambassador in Beijing presides. Until recently, that man was Andrey Denisov. Born in 1952 in Kharkiv in what was then the Soviet Republic of Ukraine, he studied Sinology and later became a key figure in Russian-Chinese relations.
When it came to Ukraine, the apparatus in Beijing preferred to talk to Denisov, a Russian, than to Leshchynska, a Ukrainian.
"Ukraine is Russia's backyard, the Russians understand that best," European diplomats were told by officials at the Foreign Ministry. And that's the view they continue to hold today, a year after Russia's invasion of Ukraine.
Whereas the Ukrainian ambassador to Washington was invited to the Congressional Gallery to watch U.S. President Joe Biden's recent "State of the Union Address" and was celebrated by members of Congress, Leshchynska still has to explain in Beijing who actually attacked whom in this war. "Russia is an aggressive state," she says. "Ukraine is the victim." Time and again, she says, she has approached the Chinese Foreign Ministry and pointed out that "in order to take a neutral position, it is important to talk to both sides." Unfortunately, she says, there is still no sign that the Chinese side is willing to do so.
The completely contrasting treatment of the two diplomats in Beijing and Washington is demonstrative of the enormous tension that the Ukraine war has injected into the relationship between the two superpowers. It was far from an easy relationship even before the war, but Putin's invasion of Ukraine has resulted in a geopolitical constellation that many, like former Australian Prime Minister Kevin Rudd, have been warning about for years: a "new Cold War."
The term is controversial because the politically and economically fragmented world of the 21st century is different from that of the post-World War II bloc. The nuclear arms race between China and America has not yet reached dimensions that can been compared to the one between the U.S.S.R. and the U.S. in the 20th century. And in contrast to the Soviet Union, the U.S. continues to maintain brisk trade relations with China, whose central bank holds $867 billion worth of U.S. bonds.
Ideological Ossification
Since February 2002, though, three developments have unfolded that are quite reminiscent of the Cold War: First, Russia's war of aggression on Ukraine is increasingly perceived as a kind of proxy conflict of the kind fought last century. Not in Ukraine itself, where a nation is simply defending itself against an aggressor, but in Moscow and Beijing, where it is portrayed as a defense against a West that is "striving for hegemony," and also in Washington, where it is understood as part of a global struggle between democracies and autocracies. At a meeting of European Union officials in Strasbourg, France, some seemed to hold that opinion, as well. Speaking there, Germany's foreign minister – likely unintentionally – said: "We are fighting a war against Russia."
Second, since Russia's invasion of Ukraine, major powers have been doing what they can to line up partners and allies. Each side is rallying its "troops" – in debates and votes at the United Nations, with diplomatic missions conducted by individual politicians or through large-scale aid and economic programs. The countries that are being courted most heavily right now are those that were considered "non-aligned" during the Cold War and are now roughly grouped under the term "Global South," including India, Indonesia, Brazil and South Africa.
Third, the struggle has been accompanied by an ossification of ideologies – one that has been extreme in Russia, but also increasingly in Sino-American relations. The trajectory of the war has so far confirmed for Beijing and Washington the image that they had of each other: as that of an ideological adversary with whom understanding is almost no longer possible. This ideological component is much stronger today. Previously, the rivalry had been more in the realm of the power-political, the military and technology.
Chinese and Russian Interests Correspond
Whereas Moscow and Beijing were enemies for much of the Cold War, they are closer today than they have been since the founding years of the People's Republic. Like Stalin and Mao Zedong back then, Vladimir Putin and Xi Jinping today share their fundamental rejection of a U.S.-dominated world order – and even a deeply internalized anti-Americanism. From that perspective, Western support for Ukraine appears to be a U.S.-driven plan to expand its sphere of influence eastward. The West, Putin claimed in his February 21 address to the nation, is using Ukraine as a "battering ram against Russia" and a military "training ground." The U.S., Beijing's Foreign Ministry spokesperson seconded two days later, is the "No. 1 warmonger in the world."
It's thus not surprising that experts on Russian-Chinese relations have no illusions about the "peace plan" recently presented by Beijing. "Any random Foreign Ministry employee can put something like this together," says Russian China expert Alexander Gabuev of the Carnegie Endowment for International Peace. He says the paper ultimately confirms how closely aligned China's and Russia's interests actually are. Beijing isn't pushing Moscow to do anything it doesn't want to do anyway, he argues.
The fact is: China's "peace plan" isn't even a document that specifies which party should take which steps and when or how violations should be punished. It's a declaration of principles that reiterates China's anti-Western positions, goes easy on the aggressor Russia, calls for a cease-fire instead of a Russian troop withdrawal – and a lifting of all sanctions not enacted by the UN Security Council (where Russia, as a veto power, de facto makes such sanctions impossible).
"The fact that China has started talking about Ukraine is not bad."

  UKRAINIAN PRESIDENT VOLODYMYR ZELENSKYY
Ukrainian President Volodymyr Zelenskyy commented on the Chinese initiative as positively as possible for a document that neither condemns Russia's war of aggression nor outlines a concrete path to an agreement. "I believe that the fact that China has started talking about Ukraine is not bad," he said on the first anniversary of the start of the war. The question is what will follow those words. Chinese leader Xi has met his Russian counterpart Putin around 40 times in total, most recently in September. He has spoken just a single time with Zelenskyy on the phone. That was in 2021, the year before the war. Xi has never met Zelenskyy in person.
In the short term, Ukraine has three concerns for China, former Foreign Minister Pavlo told DER SPIEGEL: That it not provide Russia with military support; that it not provide Russia with technology that can also be used militarily; and third, he said, it must be clear to Moscow "that the use of weapons of mass destruction is out of the question."
Klimkin argues that China's "peace plan" isn't even primarily about Ukraine or Russia. "China is using this moment more to present itself as a decisive player on the world stage and to fundamentally challenge the Western international order."
China's "Global Security Initiative"
Three days before the Ukraine paper, Beijing unveiled a much more detailed document laying out its "Global Security Initiative." The plan, announced by Xi almost a year ago, is a political continuation of the Silk Road Initiative, Beijing's nearly global economic and development program.
The text, heavily infused with party jargon, nonetheless provides fairly clear information about China's security policy plans. Similar to the Ukraine paper, it argues against "unilateralism, bloc confrontation and hegemonism" and advocates guaranteeing security not by means of military alliances but through individual agreements. At the same time, the text identifies where the focus of Chinese foreign policy will lie in the future: in the countries of Southeast Asia, the Middle East, Latin America, the Caribbean and the Pacific island nations.
These are precisely the regions of the Global South where the U.S. and Europe have been trying to curry favor since the start of the Russian invasion. As German Chancellor Olaf Scholz's recent visit to Brazil demonstrated, this has only been partially successful. President Lula de Silva is reluctant to supply ammunition to Ukraine and has made reference to China's "peace plan." With 141 affirmative votes for the Ukraine resolution adopted on Thursday, the number of its supporters in the UN General Assembly remains very high. Russia gained only two, Mali and Nicaragua, in addition to its usual four allies (North Korea, Syria, Belarus and Eritrea).
Among the countries that abstained, and among those wary of going along with the sanctions imposed by the West, China has possible partners. Which isn't particularly surprising: Beijing has increased its diplomatic presence in almost all of these countries. For many of them, China is the largest trading partner – and many of them have also grown tired of an often arrogant West that fails to adhere to its own moral standards.
Beijing is even more adept at stirring up such sentiment at home. Political discourse in China had begun radicalizing even before the pandemic, but that process was accelerated by the country's post-2020 self-isolation. The perception of many Chinese is that the West, America especially, has become a caricature of itself: power-hungry, self-serving and focused exclusively on keeping China down. This radicalization can be observed not only in the state media and on the internet, but also in top diplomacy. China, the deputy foreign minister recently tweeted, "never engages in slaughter, predation or racial genocide of its ethnic minorities" like the U.S.
Though the conditions are quite a bit different, this shift in China is echoed by the debate in the U.S., where moderate voices have all but vanished. Each new event becomes a "China crisis," whether it's the intrusion of a Chinese spy balloon, the banning of the social network TikTok on government mobile phones or the debate about the origins of the coronavirus. Did the virus originate in a Chinese lab, as two American studies suggest? In any case, the chairman of a newly formed committee in the House of Representatives dedicated to countering China says that America is facing an "existential struggle." China has become an issue where politicians can score points domestically.
The Next Crises Are Looming
The "perception gap" has become so significant "that the two sides appear to genuinely no longer be able to understand each other," writes Zhao Tong, a Beijing native and Princeton University research on nuclear and disarmament issues. The direct lines of communication have also broken off. When officials at the Pentagon called Beijing after the balloon crisis, no one there picked up. A short time before, the U.S. secretary of state had cancelled his first visit to China.
A way out of the downward spiral in Sino-American relations, which has been accelerating since the start of the Ukraine war, seems increasingly difficult – especially since further conflicts are looming or already pre-programmed: This spring, Chinese leader Xi plans to travel to Moscow. That trip promises to ease the situation about as much as the planned trip to Taiwan by U.S. Speaker of the House Kevin McCarthy. China considers Taiwan to be part of its own territory. Beijing responded to a visit last summer by McCarthy's predecessor Nancy Pelosi with several days of military exercises.
The latest economic figures look like some strangely outdated legacy of a bygone era. Whereas the volume of trade between China and Russia rose by 30 percent last year to around $190 billion, that between China and the U.S. is more than three times greater – and more than ever before. And America's European allies conduct even more business with China - to the tune of more than $900 billion.
All of that will be at stake if the suspicions expressed by U.S. Secretary of State Anthony two weeks ago are confirmed: that China is thinking about providing Russia with "lethal aid" – that is, supplying weapons, munitions or combat drones .
If that were to happen, Blinken said, it "could cause a serious problem for us and in our relationship" – and would likely result in an economic war that could dwarf anything that has preceded it. Mikko Huotari, head of the Berlin-based Mercator Institute for China Studies (MERICS), has spoken of a "mega disaster," and a "meltdown" of the global economy if that were to happen.
It's a bitter irony, but also probably true: The Cold War, until now a horror vision for Sino-American relations, may end up being a comparatively harmless scenario.
German Toro Ghio
Discussions
No discussions yet. Start a discussion below.
Get Published - Build a Following
The Energy Central Power Industry Network® is based on one core idea - power industry professionals helping each other and advancing the industry by sharing and learning from each other.
If you have an experience or insight to share or have learned something from a conference or seminar, your peers and colleagues on Energy Central want to hear about it. It's also easy to share a link to an article you've liked or an industry resource that you think would be helpful.