Jan 10, 2019 1:30 pm GMT

871 views
According to EIA's latest inventory of electric generators, 23.7 gigawatts (GW) of new capacity additions and 8.3 GW of capacity retirements are expected for the U.S. electric power sector in 2019. The utility-scale capacity additions consist primarily of wind (46%), natural gas (34%), and solar photovoltaics (18%), with the remaining 2% consisting primarily of other renewables and battery storage capacity.
Wind. A total of 10.9 GW of wind capacity is currently scheduled to come online in 2019. Most of the capacity will not come online until the end of the year, which is typical for renewable capacity. Three states—Texas, Iowa, and Illinois—will be home to more than half of the 2019 planned wind capacity additions.
Natural gas. Planned natural gas capacity additions are primarily in the form of combined-cycle plants (6.1 GW) and combustion-turbine plants (1.4 GW). Most of the natural gas capacity is scheduled to be online by June 2019 in preparation for high summer demand. Of the planned natural gas capacity additions, 60% will occur in Pennsylvania, Florida, and Louisiana.
Solar photovoltaics. Nearly half of the 4.3 GW of utility-scale electric power sector solar photovoltaic (PV) capacity additions are located in three states: Texas, California, and North Carolina. In addition to the electric power sector, other sectors, such as the residential and commercial sectors, also install solar PV, e.g., distributed PV or rooftop systems. In addition to utility-scale capacity, EIA's Short-Term Energy Outlookexpects an additional 3.9 GW of small-scale solar PV capacity to enter service by the end of 2019.
New electric generating capacity in 2019 will come from renewables and natural gas - Today in Energy - U.S. Energy Information Administration (EIA)
Energy Information Administration - EIA - Official Energy Statistics from the U.S. Government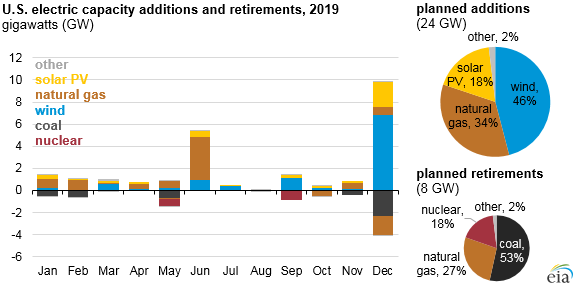 Thank Matt for the Post!
Energy Central contributors share their experience and insights for the benefit of other Members (like you). Please show them your appreciation by leaving a comment, 'liking' this post, or following this Member.