This group brings together the best thinkers on energy and climate. Join us for smart, insightful posts and conversations about where the energy industry is and where it is going.
Shared Link
Loan Programs Office November 2022 Monthly Application Activity Report
LPO's latest monthly report on its application activity is out and interest in financing through U.S. Department of Energy (DOE) loan and loan guarantee programs remains high, with 98 active applications for a cumulative of $98.7 billion in requested financing through the end of November 2022.

The Advanced Vehicles & Components, Advanced Nuclear, and Biofuels tech sectors continue to lead the way, representing almost 50% of the total project financing requested by active applications.

Read more about the 13 LPO tech sectors used in the Monthly Application Activity Report (MAAR) and examples of what types of technology areas of interest are included within each at: Energy.gov/LPO/MAAR
Reposted to Energy Central from: https://www.linkedin.com/company/doe-loan-programs-office/ 
Loan Programs Office November 2022 Monthly Application Activity Report
Each month, the LPO Monthly Application Activity report updates: The total number of current active applications that have been formally submitted to LPO (Remained steady at 98) The cumulative dollar amount of LPO financing requested in these active applications ($98.7 billion as compared to $104.5 billion as of October 30, 2022) The 24-week rolling average of new applications per week as of the close of the previous month (increased from 1.3 to 1.5 average applications per week) Technology sectors represented by applications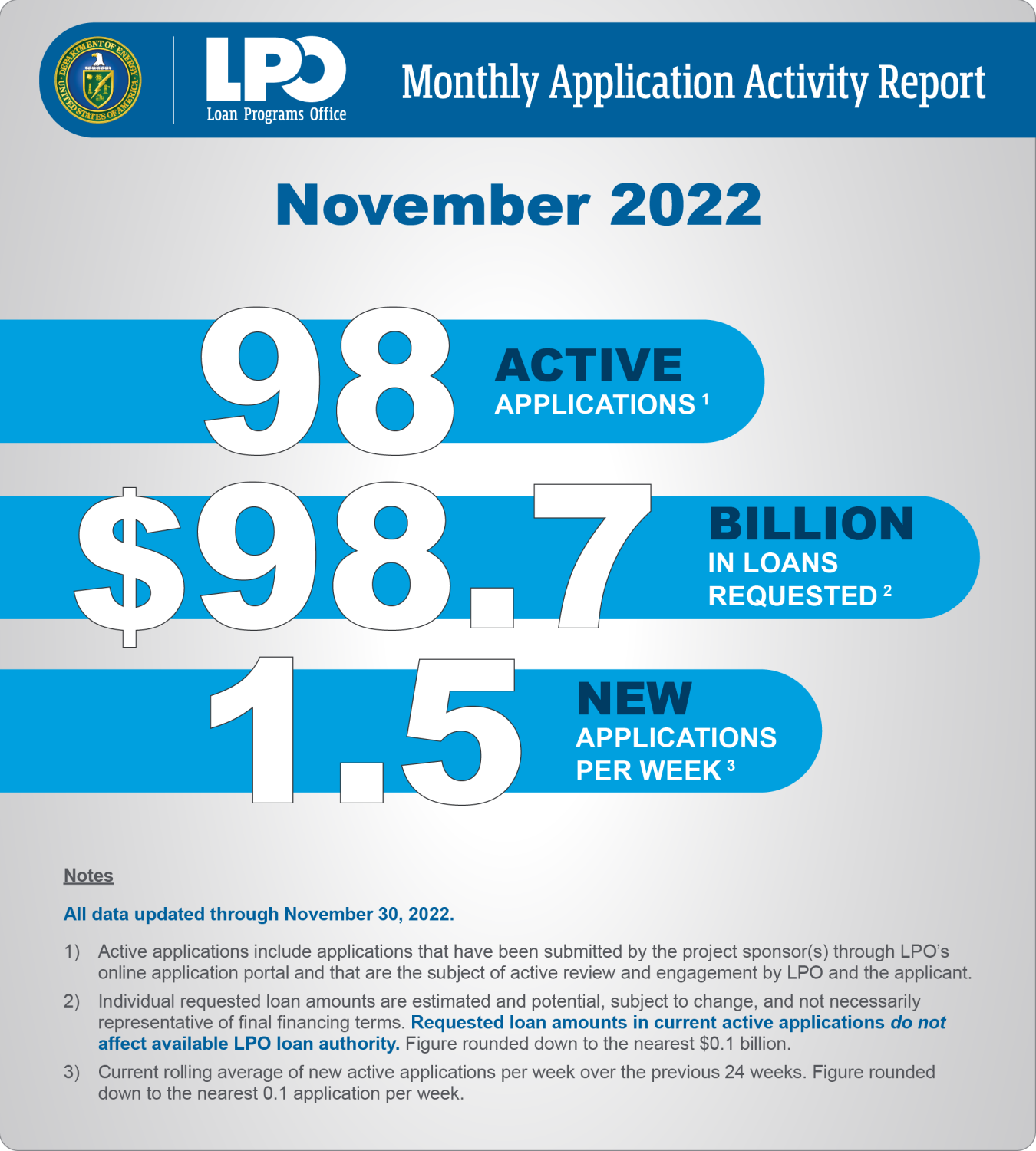 Discussions
No discussions yet. Start a discussion below.
Get Published - Build a Following
The Energy Central Power Industry Network is based on one core idea - power industry professionals helping each other and advancing the industry by sharing and learning from each other.
If you have an experience or insight to share or have learned something from a conference or seminar, your peers and colleagues on Energy Central want to hear about it. It's also easy to share a link to an article you've liked or an industry resource that you think would be helpful.