This group brings together the best thinkers on energy and climate. Join us for smart, insightful posts and conversations about where the energy industry is and where it is going.
Shared Link
ERCOT Report on Cold Weather Event 2021; BOD Presentation 2-24-2021
The Texas Grid was less than 5 minutes from a potentially catastrophic collapse with a frequency below 59.4 for almost 4.5 minutes. There are some really ugly graphs in the linked presentation below, presented by ERCOT Senior Management to the BOD on 2/24/2021. This is further evidence that Scarcity pricing is an economists dream and a grid operators nightmare! And now some regulators are realizing it's their nightmare too.
ERCOT Report on Cold Weather Event 2021; BOD Presentation 2-24-2021
Key Events (Monday, February 15 – Friday, February 19) • More than 16,500 control room calls with generators and transmission owners (normal: ∼5,000/week). • Multiple daily coordinating calls between transmission owners and operations management. • Monday, February 15 ‒ Up to an additional ∼24,000 MW net generation unavailable due to extreme weather; loss of generation was 52,277 MW (approximately 48.6%) at the highest point. ‒ 20,000 MW peak load shed. ‒ Limited gas availability for gas-fired power plants. ‒ Multiple DC-Tie constraints due to neighboring area emergencies. ‒ Daily Texas Energy Reliability Council meetings. • Tuesday, February 16 ‒ No net gain in generation as some generators were restored and others became unavailable. ‒ Decreased volume of controlled outages during the day, increased for evening peak. • Wednesday, February 17 ‒ Moderating temperatures allowed reduction in controlled outages, small net gain in generation. • Thursday, February 18 ‒ Continued gain in generation. ‒ 12:42 a.m. - Canceled last controlled outage orders - some outages remained due to ice storm damage; need for manual restoration and return of large industrial facilities. • Friday, February 19 (all times approximate) ‒ 9 a.m. - Returned to emergency operations level 2 ‒ 10 a.m. – Returned to emergency operations level 1 ‒ 10:35 a.m. – Returned to normal operations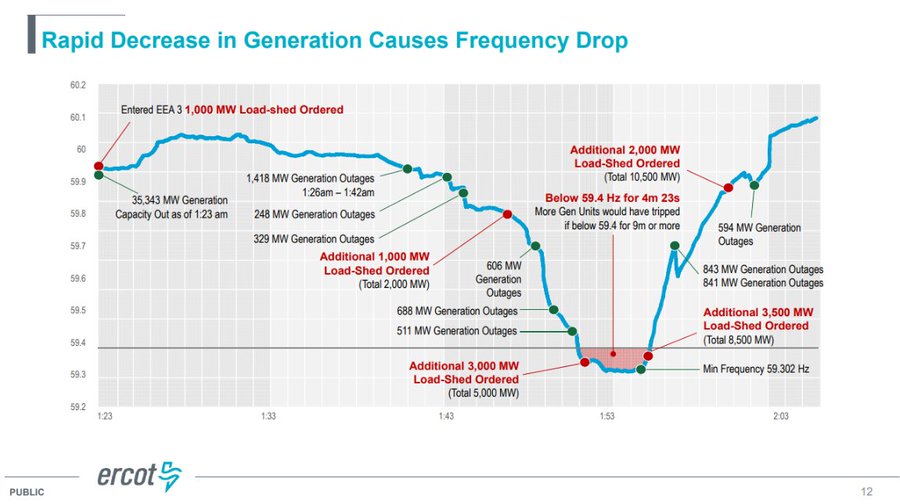 Discussions
Get Published - Build a Following
The Energy Central Power Industry Network is based on one core idea - power industry professionals helping each other and advancing the industry by sharing and learning from each other.
If you have an experience or insight to share or have learned something from a conference or seminar, your peers and colleagues on Energy Central want to hear about it. It's also easy to share a link to an article you've liked or an industry resource that you think would be helpful.