This group brings together the best thinkers on energy and climate. Join us for smart, insightful posts and conversations about where the energy industry is and where it is going.
Post
EPA Has the Responsibility and the Tools to Address Climate Pollution Under the Clean Air Act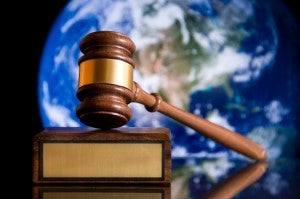 It's barely a week since Scott Pruitt was confirmed as EPA Administrator, and he has already provided yet another indication of why he has no business leading the agency.
In an interview with The Wall Street Journal, Pruitt says he wants to undertake a "careful review" as to whether EPA has the "tools" to address climate change under the Clean Air Act. Pruitt further states that EPA should withdraw the Clean Power Plan – a vital climate and public health measure to reduce carbon pollution from the nation's power plants – and instead wait for Congress to act on the issue of climate change.
Those statements are contrary to the law and disconnected from reality. As Pruitt surely knows, the federal courts – including three separate decisions of the Supreme Court – have made it abundantly clear that the Clean Air Act requires EPA to protect the public from dangerous pollutants that are disrupting our climate. The courts have repeatedly rejected Pruitt's theory that climate pollution is an issue that only Congress can address through new legislation.
Over the last eight years, EPA has demonstrated that the Clean Air Act is an effective tool for addressing the threat of climate change — by putting in place common sense, highly cost-effective measures to reduce climate pollution from cars and trucks, power plants, oil and gas facilities, and other sources. These actions under the Clean Air Act are saving lives, strengthening the American economy, and yielding healthier air and a safer climate for our children.
Pruitt's casual willingness to abandon that progress based on a discredited legal theory demonstrates deep contempt for the laws he is charged with administering and the mission of the agency he now leads.
EPA Is Legally Obligated to Address Climate Pollution
The Supreme Court has repeatedly held that EPA clearly has the authority and responsibility to address climate pollution under the Clean Air Act:
In Massachusetts v. EPA (549 U.S. 497, 2007), the Supreme Court held that climate pollutants plainly fall within the broad definition of "air pollutants" covered by the Clean Air Act. The Court ordered EPA to make a science-based determination as to whether those pollutants endanger public health and welfare (a determination that EPA ultimately made in 2009, and that has been upheld by the federal courts).
In American Electric Power v. Connecticut (564 U.S. 410, 2011), the Supreme Court held that the Clean Air Act "speaks directly" to the problem of climate pollution from power plants.
In Utility Air Regulatory Group v. EPA (134 S. Ct. 2427, 2014), the Supreme Court held that the Clean Air Act obligated EPA to address climate pollution from new and modified industrial facilities.
In Massachusetts v. EPA, the Bush Administration's EPA made — and the Supreme Court rejected —Pruitt's same argument that EPA lacks the authority and tools to address climate pollution.
The Supreme Court said in no uncertain terms that:
The statutory text forecloses EPA's reading … Because greenhouse gases fit well within the Clean Air Act's capacious definition of 'air pollutant,' we hold that EPA has the statutory authority to regulate the emission of such gases from new motor vehicles. (emphasis added)
The Supreme Court went on to explain that – contrary to what Pruitt is now saying – Congress intended to provide EPA with the tools it needed to address new air pollution challenges, including climate change:
While the Congresses that drafted [the Clean Air Act] might not have appreciated the possibility that burning fossil fuels could lead to global warming, they did understand that without regulatory flexibility, changing circumstances and scientific developments would soon render the Clean Air Act obsolete. The broad language [of the Act] reflects an intentional effort to confer the flexibility necessary to forestall such obsolescence. (emphasis added)
The Court also found that nothing about climate pollution distinguishes it from other forms of air pollution long regulated under the Clean Air Act. It rejected the Bush Administration's attempt to argue that climate pollution is somehow "different," saying that theory was a "plainly unreasonable" reading of the Clean Air Act and "finds no support in the text of the statute."
That was the law under the Bush Administration – and it remains the law today. It is a binding, rock-solid precedent regardless of who is running EPA at any given time.
Pruitt ought to know all this, because he was one of the Attorneys General who joined polluters and their allies in challenging EPA's determination that climate pollution endangers public health and welfare.
That 2009 determination was in response to Massachusetts v. EPA, and it was based on an immense body of authoritative scientific literature as well as consideration of more than 380,000 public comments. Yet in their legal challenge to the determination, Pruitt and his allies again argued that EPA should have declined to make an endangerment finding based on the supposed difficulty of regulating climate pollution under the Clean Air Act.
A unanimous panel of the D.C. Circuit rejected those claims, finding that:
These contentions are foreclosed by the language of the statute and the Supreme Court's decision in Massachusetts v. EPA … the additional exercises [state and industry challengers] would have EPA undertake … do not inform the 'scientific judgment' that [the Clean Air Act] requires of EPA … the Supreme Court has already held that EPA indeed wields the authority to regulate greenhouse gases under the CAA. (Coalition for Responsible Regulation v. EPA, 684 F.3d 102, D.C. Cir. 2012, emphasis added)
The Supreme Court did not even regard further challenges to the endangerment finding as worthy of its review. (See Order Denying Certiorari, Sub Nom Virginia v. EPA, 134 S.Ct. 418, 2013)
Pruitt's suggestion that EPA should stop applying the Clean Air Act's protections to an important category of pollutants – greenhouse gases – amounts to a repeal of Congress's core judgment that all air pollutants that cause hazards to human health and the environment need to be addressed under the Clean Air Act. It is an audacious and aggressive effort to alter the Clean Air Act in a way that Congress has never done (and has specifically declined to do when such weakening amendments have been proposed).
EPA Has Established a Strong Record of Successful Climate Protections
Pruitt's statements also ignore the pragmatic way in which EPA has carried out its legal obligations to address climate pollution. Since Massachusetts v. EPA was decided, EPA has issued common sense, cost-effective measures for major sources of climate pollution – including power plants; cars and trucks; the oil and gas sector; and municipal solid waste landfills.
These actions demonstrate that Pruitt is flatly wrong to suggest that EPA lacks the "tools" to address climate change under the Clean Air Act. They include:
When Scott Pruitt suggests that the Clean Air Act is a poor fit for regulating climate pollution, he overlooks the clear command of the statute, as confirmed repeatedly by the Supreme Court. He also ignores EPA's successful history of issuing regulations that protect the environment while promoting significant health and economic benefits.
Pruitt might try to distort the truth in an effort to wipe climate protections off the books — subjecting our children and grandchildren to the dire health, security and economic effects of unlimited climate pollution in the process. But the law and the facts are not on his side.
EPA must address climate pollution under the Clean Air Act, and it has the tools to do so effectively.
By Tomas Carbonell. EDF Attorney Ben Levitan co-authored this post.
Shira Silver
Discussions
No discussions yet. Start a discussion below.
Get Published - Build a Following
The Energy Central Power Industry Network® is based on one core idea - power industry professionals helping each other and advancing the industry by sharing and learning from each other.
If you have an experience or insight to share or have learned something from a conference or seminar, your peers and colleagues on Energy Central want to hear about it. It's also easy to share a link to an article you've liked or an industry resource that you think would be helpful.