This group brings together the best thinkers on energy and climate. Join us for smart, insightful posts and conversations about where the energy industry is and where it is going.
Post
Energy Facts: Fossil Fuels Replace Nuclear in Japan
Here are your Friday Energy Facts for the week: Japan's use of fossil fuels for power generation increased 21 percent in 2012 after the March 11th, 2011 Tohoku earthquake and resulting tsunami triggered meltdowns at the Fukushima Daiichi nuclear power plant. Those events triggered a shutdown of virtually all of the nation's nuclear power stations, which prior to the tsunami provided about 30 percent of Japan's electricity. As the graphic below indicates, power generation from coal, oil, and natural gas-fired plants increased output to fill the void left by the nuclear shutdown. CO2 emissions and fossil fuel imports have also risen sharply as a result.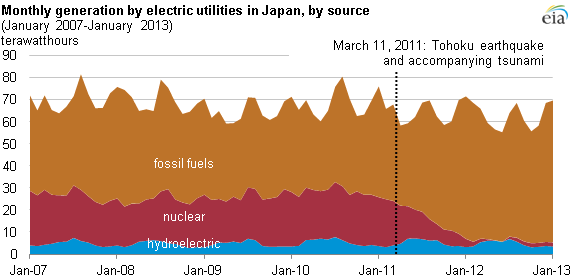 Source: U.S. Energy Information Administration (EIA)

Note: this post is part of my (semi)regular series, "Friday Energy Facts," which provides simple facts and graphs on energy and climate without editorial comment. Stay tuned for more…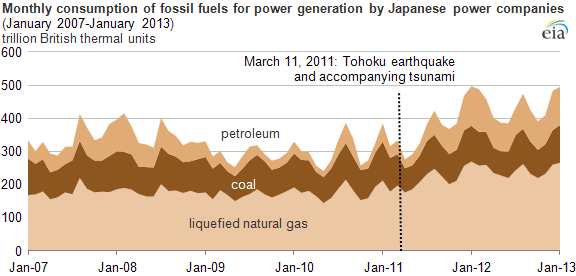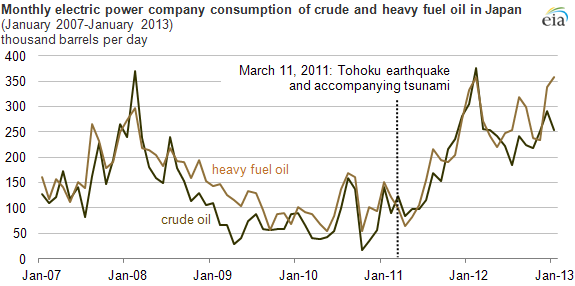 Jesse Jenkins
Discussions
Spell checking: Press the CTRL or COMMAND key then click on the underlined misspelled word.
Get Published - Build a Following
The Energy Central Power Industry Network is based on one core idea - power industry professionals helping each other and advancing the industry by sharing and learning from each other.
If you have an experience or insight to share or have learned something from a conference or seminar, your peers and colleagues on Energy Central want to hear about it. It's also easy to share a link to an article you've liked or an industry resource that you think would be helpful.