This group brings together the best thinkers on energy and climate. Join us for smart, insightful posts and conversations about where the energy industry is and where it is going.
Post
Energy Efficiency Firms Struggle to Find Qualified Workers
As the US unemployment rate nears a 10-year low, some companies report trouble finding skilled workers. The problem is particularly pervasive, as new data show, in the energy efficiency sector.
More than 80 percent of employers in this sector report at least some difficulty finding qualified job applicants, and more than 40 percent indicate it's "very difficult," according to the Department of Energy's second annual energy and employment report released this month.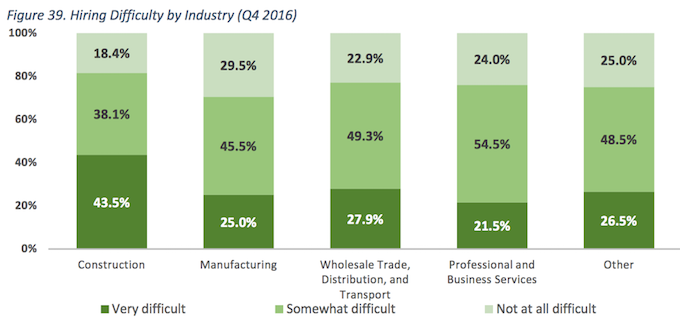 These numbers are slightly higher than the 76 percent reported last year for the energy efficiency sector or the 73 percent reported this year for all energy employers. Both years, and across the energy efficiency sector, the hiring challenge appears toughest in the construction industry.
Why such a problem? Employers say the top reason is "insufficient qualifications, certifications, and education," followed by "lack of experience, training, or technical skills." Their responses show a stark need for workforce training, especially given the broad economic benefits of energy efficiency. They also indicate a need for diversity, because men account for three of every four energy efficiency workers.
Despite the hiring challenges, the DOE report has good news. It expects a nine percent increase this year in the number of energy efficiency workers. Already, it says 2.2 million Americans work at least part time in designing, installing, and manufacturing energy-efficient products and services such as those that carry the blue Energy Star label. This number is a conservative estimate. As ACEEE recently explained, the data cover only direct jobs rather than the indirect ones that result from the monetary savings of energy efficiency.
Also noteworthy: The anticipated job gains for energy efficiency outpace those for all energy firms covered by the DOE survey, which are expected to increase about five percent this year.
ACEEE Blog
Discussions
Spell checking: Press the CTRL or COMMAND key then click on the underlined misspelled word.
No discussions yet. Start a discussion below.
Get Published - Build a Following
The Energy Central Power Industry Network is based on one core idea - power industry professionals helping each other and advancing the industry by sharing and learning from each other.
If you have an experience or insight to share or have learned something from a conference or seminar, your peers and colleagues on Energy Central want to hear about it. It's also easy to share a link to an article you've liked or an industry resource that you think would be helpful.