This group brings together the best thinkers on energy and climate. Join us for smart, insightful posts and conversations about where the energy industry is and where it is going.
Shared Link
Could the Next Generation of Batteries Be Based on Iron and Not Lithium?
ESS Inc., a ten-year-old, Oregon-based company has developed a low-cost, iron-flow battery for long-duration energy backup requirements of up to 12 hours per battery pack. Iron-flow batteries combine iron, salt, and a water-based electrolyte to produce reliable electricity storage suitable for utilities and industrial sites where flexible energy capacity is needed.
The battery's four components include two electrodes, the electrolyte and a separator. A pump keeps the electrolyte flowing as charged particles shuffle between the electrodes while the separator prevents a short circuit. Each battery comes packed into a shipping container. These can be daisy-chained to other containers to rapidly expand energy storage for any site. That's why you can see the efficacy of use for utility and large industrial and commercial operations.
Could the Next Generation of Batteries Be Based on Iron and Not Lithium?
ESS has perfected a flow battery that uses water as its electrolyte and can operate as a 12-hour battery backup to solar or wind.
Source:
www.21stcentech.com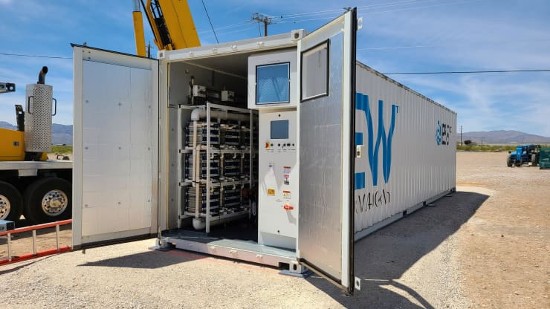 Discussions
Get Published - Build a Following
The Energy Central Power Industry Network is based on one core idea - power industry professionals helping each other and advancing the industry by sharing and learning from each other.
If you have an experience or insight to share or have learned something from a conference or seminar, your peers and colleagues on Energy Central want to hear about it. It's also easy to share a link to an article you've liked or an industry resource that you think would be helpful.