This group brings together the best thinkers on energy and climate. Join us for smart, insightful posts and conversations about where the energy industry is and where it is going.
Post
Cleaning the Air Saves Lives and Creates an Engine for Job Growth
The Clean Air Act has a long, well-documented history of reducing pollution, and thus improving – and often even saving – lives in America.
This bedrock law represents one of the greatest environmental and health success stories in the world. Gross Domestic Product in the U.S. has grown 246 percent over the life of the Clean Air Act while at the same time pollutants have been reduced 71 percent.
The Clean Air Act has led to enormous innovation in technology
The Clean Air Act has helped launch innovation in technologies that reduce pollution –technologies which in many cases can be exported around the world.
Previous experience with emissions standards based on advanced technologies, such as the 1971 and 1979 standards to reduce sulfur dioxide emissions from power plants, demonstrates that such standards lead to both significant emission reductions and enhanced deployment of the technology that results in dramatic cost declines.
The 1970 Clean Air Act drove the necessary market demand by creating national air quality standards for multiple pollutants, including sulfur dioxide, and the 1979 standard further stimulated demand by imposing an even stricter sulfur dioxide reduction requirement (70 to 90 percent) on new sources.
America's homegrown environmental protection industry
The U.S. is the single largest producer of environmental technologies in the world, capturing 29 percent of the world's $1.05 trillion market.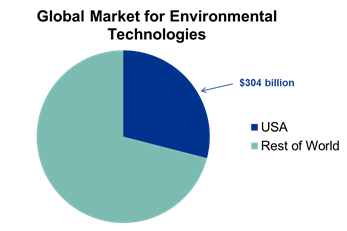 In 2015, there were an estimated 1.73 million jobs in the U.S. environmental industry, with projected growth of 3 to 4 percent over the next several years.
According to the U.S. government, 99 percent of the businesses in this industry were small to medium-sized. U.S. environmental companies exported about $48 billion in goods in 2013. At the same time, 2005 data from U.S. manufacturers indicate that their expenses for reducing pollution account for less than one percent of the value of the goods they ship.
Environmental protection standards can drive jobs in a myriad of sectors including manufacturing, engineering, construction, operations, and more.
Some examples of jobs and industries created by specific EPA clean air protections include:
Clean air saves lives and improves productivity
Cleaner air saves lives and protects the health of American families.
According to a landmark analysis, in 2010 alone the Clean Air Act prevented 160,000 deaths.
It also prevented 13 million lost workdays and 3.2 million lost school days because of illnesses and diseases caused or exacerbated by air pollution. The value of avoiding those lost work and school days in 2010 was approximately $2 billion.
That same landmark analysis estimates that the central benefits of the Clean Air Act outweigh costs by more than 30 to one.
The evidence is clear – environmental protection helps improves lives and grow the economy.
By Mandy Warner
Shira Silver
Discussions
Get Published - Build a Following
The Energy Central Power Industry Network is based on one core idea - power industry professionals helping each other and advancing the industry by sharing and learning from each other.
If you have an experience or insight to share or have learned something from a conference or seminar, your peers and colleagues on Energy Central want to hear about it. It's also easy to share a link to an article you've liked or an industry resource that you think would be helpful.