This group brings together the best thinkers on energy and climate. Join us for smart, insightful posts and conversations about where the energy industry is and where it is going.
Shared Link
California Adding Compressed Air Storage to the Energy Mix
Compressed air storage is a technology that increasingly looks like it will be a part of the energy mix as the planet moves to a renewable-dominant power generation infrastructure to achieve net-zero emissions by 2050. Relatively inexpensive to build, the technology developed by Hydrostor is called A-CAES. It uses surplus energy from the grid to fire up an air compressor. As the air compresses it heats up. The heat is then extracted and stored. The compressed air is pumped into pressure-sealed storage which in the two operating Hydrostor plants is found 300 metres underground. When peak energy demand requires it, the facility floods the storage area with water forcing the compressed air upward which is then recombined with the stored heat to drive a generator. The first California plant to be commissioned will replace the Diablo Nuclear Power Plant providing 8 hours of continuous power to the grid.
California Adding Compressed Air Storage to the Energy Mix
Hydrostor, a Toronto company, has two operational compressed air storage plants in Canada and will build two more for California as that state pursues moving away from fossil fuels.
Source:
www.21stcentech.com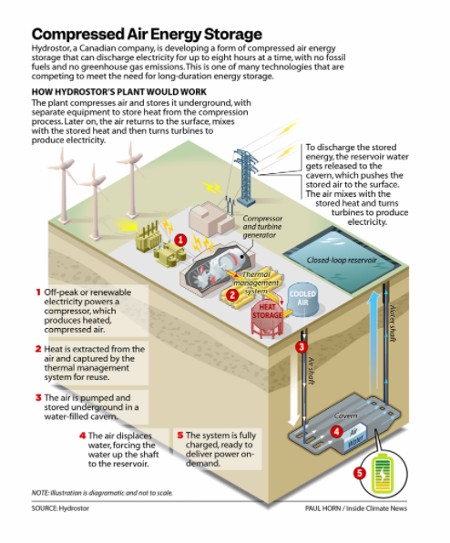 Discussions
No discussions yet. Start a discussion below.
Get Published - Build a Following
The Energy Central Power Industry Network is based on one core idea - power industry professionals helping each other and advancing the industry by sharing and learning from each other.
If you have an experience or insight to share or have learned something from a conference or seminar, your peers and colleagues on Energy Central want to hear about it. It's also easy to share a link to an article you've liked or an industry resource that you think would be helpful.