This group brings together the best thinkers on energy and climate. Join us for smart, insightful posts and conversations about where the energy industry is and where it is going.
Post
Wrapping up the Energy Crisis Year of 2022
image credit: ABC News: Michael Barnett
This has undoubtedly been a year where the Energy Transition has felt, more often than not, thrown into reverse.
In Germany, coal mines have been reopened, and nuclear power stations scheduled to be decommissioned been given an extended lease of life. Nearly all EU countries, very dependent on Russian oil and gas, have been scrabbling like crazy to find alternative sources, all at rising prices and growing difficulties in finding supplies. The cost of energy to the consumer has risen significantly, and many Governments have been forced to offset winter bills with different incentives, payments or credits that will be highly expensive, so where does that cost come from, and what gets sacrificed?
France struggles with a rapidly ageing fleet of Nuclear power plants and the issue of how many of these can be up and running and functioning at levels to maintain power to their network and be able to support neighbours at times of their need.
The UK Government announced this week it's the first opening of a new open coal mine in Cumbria a year after the UK lobbied to 'consign coal to history. The developer, West Cumbria Mining, said it was "delighted" it could now deliver what it called "the world's first net zero mine". It plans to offset the emissions from the construction, mining and domestic transport phases. I hate the word "offset". West Cumbria Mining says the coking coal it produces will be used for steelmaking in the UK and Europe. The local council had granted permission to dig for coking coal until 2049, with the mine expected to create about 500 jobs. Yet the two prominent companies that still make steel using coal in the UK - British Steel and Tata - say they plan to move to lower carbon production methods. According to the UK Telegraph, this Cumbrian coal mine is economical and diplomatic idiocy.
LNG has taken on an entirely new lease of life, with shipments from the Middle East suddenly backing up and waiting around Europe to be offloaded as Europe rushes to increase their LNG receiving facilities. Many renewables, offshore wind, off the Northern coastal part of Europe are attempting to send power closer to the places of industrial or urban need.
The US has suddenly transformed itself within its energy approach.
The Inflation Reduction Act (IRA) of 2022 makes the single most significant investment in climate and energy in American history, enabling America to tackle the climate crisis, advancing environmental justice, securing America's position as a world leader in domestic clean energy manufacturing, and putting the United States on a pathway to achieving the Biden Administration's climate goals, including a net-zero economy by 2050.
The location of COP27 this year highlights the importance of the Africa and Mid-East regions on global net-zero objectives. Africa is set to take an increasingly pivotal role in the energy transition. Both its greatest challenges and most significant opportunities lay in the fact that its energy infrastructure is still largely under development. Thus a transition towards greener energy alternatives is highly feasible. The orderly energy transition could then unleash the crucial economic growth that the region is committed to, per the 2063 Agenda, becoming an economic, social, and climate win-win-win scenario.
There was a strong view that CoP27, held in Egypt, failed.
There is no doubt that countries could've done much more. It is also unquestionable that powerful actors, petro-state governments, and the fossil fuel industry are to blame for the insufficient progress made in Egypt. 
Compared to Glasgow's CoP26 summit last year, fossil fuel lobbyists joining the climate talks in Egypt rose 25%, amounting to 636 people lobbyists. "The influence of the fossil-fuel industry was found across the board with the Egyptian Presidency of CoP27 producing a text that seemingly was protecting oil and gas petrostates and the fossil-fuel industries. This trend cannot continue in the United Arab Emirates next year for the CoP28, but the UAE is one of the fossil fuel giants. At present, it does not auger well.
The world has already warmed by 1.2°C above pre-industrial levels, and meeting the 1.5-degree target would require far more ambitious pre-2030 emissions cuts. Many experts and negotiators at the CoP27 felt this was the COP where we lost 1.5C as the target and began the significantly different debates on mitigation, which will, in the end, have a much higher, more devastating price to pay in recovery, loss, disruption etc.
With its lower economic activity, caused mainly by a constant focus on controlling Corvid, China has not been so in the global market for oil and gas. That will change in 2023, and that added pressure of chasing less gas and oil globally will see the continuance of prices rising. Energy price protection costs are rapidly eroding the funds that would have been moving into the continued renewable changes we need.
We are pushing more Carbon into the atmosphere, goodbye 1.5C as our target
So we are pushing more carbon into the atmosphere due to the current Russian position on continuing the war on Ukraine and boycotting supplies.
Finally, our grids are under increasing strain, as power balance, effective responses, grid infrastructure limitation and present solutions are at a knife edge for possible blackouts and power shortages here in Europe. Power consumption and power generation are among the most difficult balancing acts for the winter of 2022/23. We can have severe bottlenecks in curtailment and activated response, insufficient transmission capacity at time of need and limited reserve capacity. Grids will operate under constant stress during these coming months.
Facing the challenges at the end of 2022
At the end of 2022, we will face more of the same issues as before but at heightened levels of risk.
In summary, we still have to continue to deal with ageing or outdated energy infrastructure; we are grappling with growing supply chain failures delaying changes into renewables we would like. The cost and availability of the raw materials to build at competitive prices new wind turbines, electrolyzers, solar, and batteries, all reliant on rare, expensive and limited raw materials, is yet to peak.
We continue not to inform the public in ways they increasingly support the need for a rapid energy transition; we have public opposition and permit delays and constraints due to multiple bodies required to approve any new energy project. A lack of streamlining or even harmonizing is a real drag on making change. The environmental impact always needs assessing, but the time, cost and vested interests are hard to modernize or adjust.
There is still a severe lack of funding for new technologies, renewables etc. The business models for renewables are still very immature, and the lack of (guaranteed) returns to investors, banks, institutions or venture companies needs some higher levels of underwriting by the Governments to change this.
Four other aspects are also holding back the energy transition.
The increased complexity of power grids is yet to be recognized as equal in importance to the shift from fossil fuel to renewables, not just due to variations but the technical abilities of distributed grids that need different designing. Cables, substations, switches, and thermal load limits require a radically different design.
The threat of cyber-attacks is a continued threat. When you are in the middle of substantial change, these become higher as you need to open up previously closed loops to accommodate new apps for monitoring, measuring and greater visibility.
We increasingly have extreme weather events, and the ability to build greater resiliency into the energy system is highly complex, expensive and time-consuming to change. With growing floods, fires, severe snow and ice storms, ground slippage etc., energy companies have their hands full in being able to respond and have spare parts on hand, anticipating what?
Lastly, our project management and development remain poor. We constantly reinvent the wheel, duplicate resources, and face difficulties in knowing if the solutions offered are the best of breed or a passing bridge solution. We lack a global "clearing" house to provide knowledge and understanding as the marketplace for competitive solutions is far from easy to compare or determine if they are the right fit for today's energy system, let alone for one in 5, 10 or even 20 years with regulations changing, technologies still emerging and visualizing final supply/demand needs.
So for me, 2022 has been an actual energy crisis year. I have only touched on a group of issues.
McKinsey in one of their constantly "encouraging" reports, suggests we have a nine-step problem-solving framework for debating (in my view, we need to be past debating!) and addressing barriers to unlock 1) Physical building blocks, 2) Commitments and enabling mechanisms and 3) economic and social adjustments.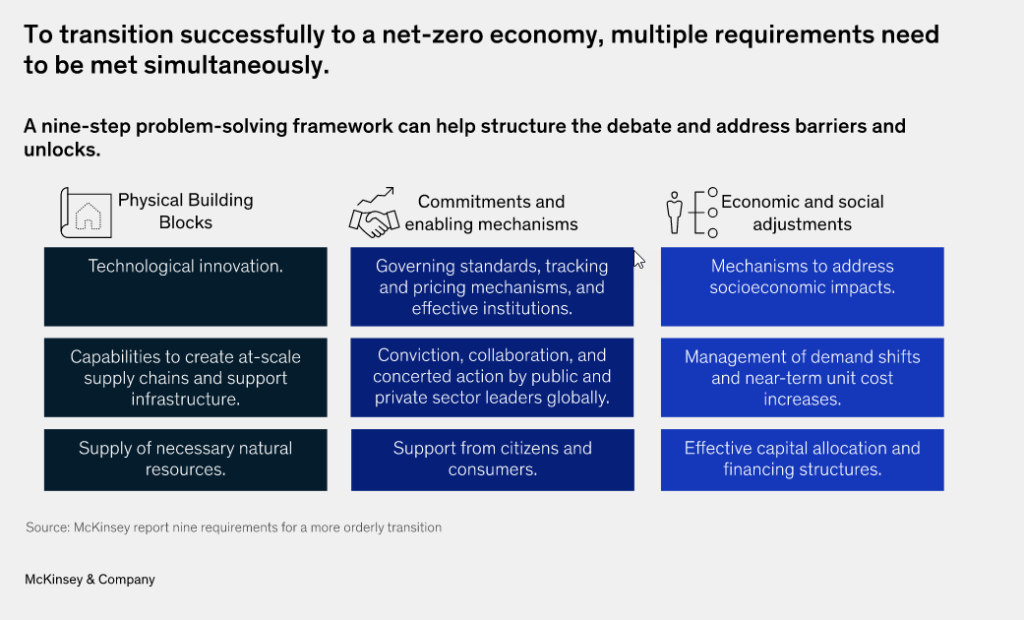 Oh, I wish it was that easy, putting all the energy transition and its multiplicity of complexities into nine building blocks. Still, we struggle to offer broader problem-solving frameworks or detailed roadmaps, let alone common language and KPIs.
Maybe my wish for 2023 is that we can find the best, orderly energy transition, but with what we have been going through in 2022, that might be wishful thinking. It is so complex, challenging and presently in crisis.
Role in 2023, let's put the Energy Crisis of 2022 behind us.
Paul Hobcraft
Discussions
Get Published - Build a Following
The Energy Central Power Industry Network is based on one core idea - power industry professionals helping each other and advancing the industry by sharing and learning from each other.
If you have an experience or insight to share or have learned something from a conference or seminar, your peers and colleagues on Energy Central want to hear about it. It's also easy to share a link to an article you've liked or an industry resource that you think would be helpful.