This group brings together the best thinkers on energy and climate. Join us for smart, insightful posts and conversations about where the energy industry is and where it is going.
Shared Link
UK unveils blueprint for £3m hydrogen transport hub
Hydrogen transport hub for the Northern Powerhouse region
The UK Government unveiled a £3m "masterplan" in which pop-up trails could see shops, supermarkets, online retailers, warehouse operators and delivery companies using hydrogen-powered transport to move goods and carry out last-mile deliveries.
The plans could also see local transport operators working with the transport research and development (R&D) sector to deliver emission-free hydrogen passenger services, such as on-demand regional buses or zero-emission refuse vehicles.
The Department for Transport's masterplan sets out a vision for the hub and a blueprint of the infrastructure required to deliver that vision.
The facilities within the hub also include an R&D campus for the creation and sharing of knowledge.
This will enable the hydrogen transport hub to act as a living lab to understand the role of hydrogen as part of the energy transition in the transport sector.
If you are interested feel freeto join me at the Hydrogen Transport https://bit.ly/3cEcg6d Professionals Group.
UK unveils blueprint for £3m hydrogen transport hub
Tees Valley in the North of England is set to become home to the UK's first-ever hydrogen transport hub – and it could be operational...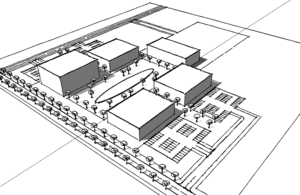 Discussions
No discussions yet. Start a discussion below.
Get Published - Build a Following
The Energy Central Power Industry Network is based on one core idea - power industry professionals helping each other and advancing the industry by sharing and learning from each other.
If you have an experience or insight to share or have learned something from a conference or seminar, your peers and colleagues on Energy Central want to hear about it. It's also easy to share a link to an article you've liked or an industry resource that you think would be helpful.