Oct 15, 2019 4:12 pm GMT

315 views
Renewables have generated more electricity than fossil fuels in the UK for the first time during this year's third quarter, according to a news report.
All told, wind, solar, biomass and hydropower generated 29.5 TWh of UK electricity from July to September. That compares to 29.1 TWh from fossil fuels, according to an analysis from Carbon Brief.
That's a big gain since 2010, when fossil fuel power generation was 10-times greater than that for renewable energy resources, the news report highlights. The latest figure confirm that the UK's efforts to decarbonize are advancing quickly.
"Almost all of that progress is thanks to the electricity sector, which as our analysis shows has seen fossil fuel generation halve since 2010 and renewables increase more than fourfold," Simon Evans, Carbon Brief's deputy editor, was quoted.
Greater progress needs to be made across other sectors of the economy, such as heating and transport, needs to be made if the UK is to meet its legally binding carbon targets, however, Evans pointed out.
UK renewables generate more electricity than fossil fuels for the first time
Energy sector has seen hydrocarbon use halve since 2010 and green sources increase more than fourfold.
Source:
www.independent.co.uk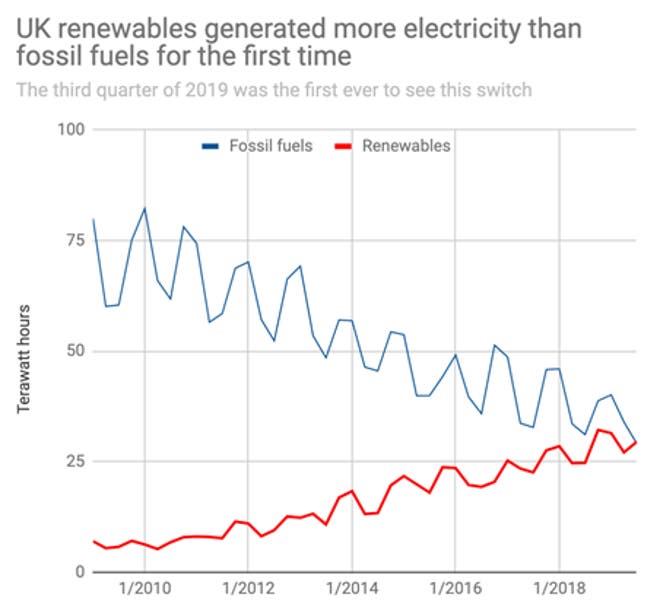 Thank Andrew for the Post!
Energy Central contributors share their experience and insights for the benefit of other Members (like you). Please show them your appreciation by leaving a comment, 'liking' this post, or following this Member.