This group brings together the best thinkers on energy and climate. Join us for smart, insightful posts and conversations about where the energy industry is and where it is going.
Shared Link
Rolls-Royce tests a jet engine running on hydrogen
Aviation 
In a windswept corner of a military site on Salisbury Plain a small aircraft jet engine is undergoing tests that could one day lead to huge changes within the aviation industry.
The engine itself is almost completely conventional. It is a Rolls-Royce AE-2100A gas turbine, a design used widely on regional aeroplanes around the world.
What is wholly unusual about it is the fuel being used. This is the first time a modern aircraft engine has ever been run on hydrogen.
Devoid of bodywork, with its intricate wiring and pipework exposed, it sits securely fastened to a sturdy test rig, while engineers cluster around an array of screens in the control room, a safe distance away. 
The tests are being carried out by Rolls-Royce, after development work in Derby and in partnership with the airline easyJet.  Stay informed: Hydrogen Aviation
Rolls-Royce tests a jet engine running on hydrogen
The firm, together with easyJet, is trying out hydrogen instead of jet fuel in a jet engine.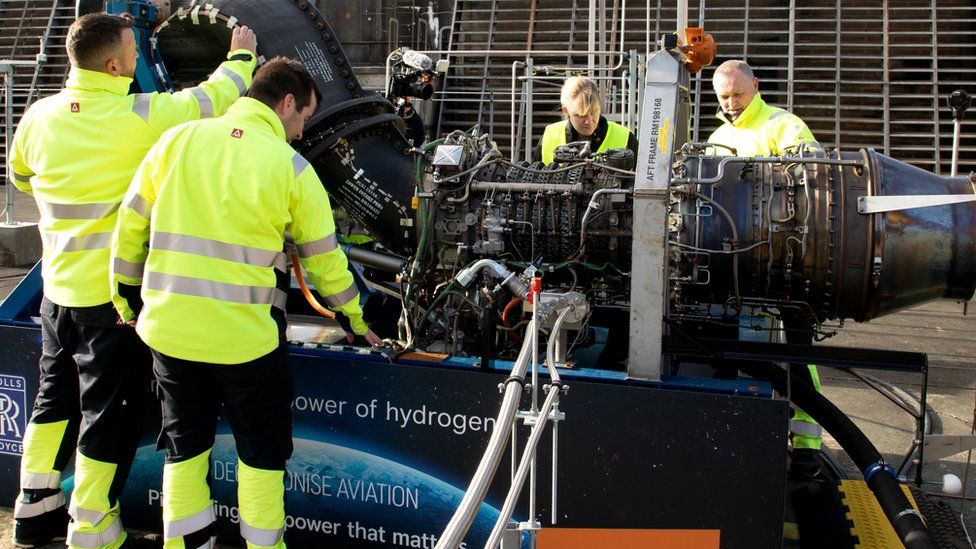 Discussions
No discussions yet. Start a discussion below.
Get Published - Build a Following
The Energy Central Power Industry Network is based on one core idea - power industry professionals helping each other and advancing the industry by sharing and learning from each other.
If you have an experience or insight to share or have learned something from a conference or seminar, your peers and colleagues on Energy Central want to hear about it. It's also easy to share a link to an article you've liked or an industry resource that you think would be helpful.