This special interest group is for professionals to connect and discuss all types of carbon-free power alternatives, including nuclear, renewable, tidal and more.
Shared Link
Producers at Science Channel recognize a goldmine in nuclear fearmongering, bail on science
"In September, cable television's Science Channel aired an episode on power plant catastrophes as part of its series Deadly Engineering, with one principal segment on the 1979 Three Mile Island accident. The episode contains several inaccuracies and distortions—perhaps the biggest mistake being that the TMI accident was featured in Deadly Engineering at all, since no deaths or long-term adverse health trends resulted from the accident.

Leaving that aside, the episode includes other errors that executives at Science Channel should have caught and corrected before airing. They also should have made sure to include knowledgeable scientific reviewers from both sides of the nuclear issue, which they did not.

The biggest falsehood in the episode comes very near the beginning, with the horribly erroneous claim that most of eastern Pennsylvania was made permanently uninhabitable by the accident. Incredibly wrong, and likely believable and very frightening to some viewers.

No expert analysis: In addition, the described health impacts of the accident are wrong, and the show provides no facts or expert comments to support these statements. The only comments come from local residents, who state that there were 'deformities with animals' and 'anomalies with plants,' such as 'two-headed dandelions' and trees with 'distorted tops.'"
Is this freakish, two-headed dandelion (below) the result of genetic damage resulting from the 1979 nuclear accident at Three Mile Island - or two dandelions growing next to each other? 42 years later, the mystery remains unsolved.
Producers at Science Channel recognize a goldmine in nuclear fearmongering, bail on science
With meltdowns few and far between, producers at Science Channel were struggling with how to make nuclear energy exciting for their new series Deadly Engineering. Then they tried a new approach: just make some sh*t up. Who's gonna know?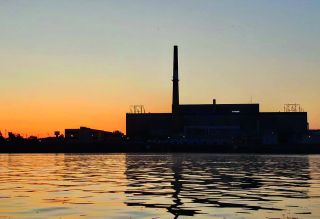 Discussions
No discussions yet. Start a discussion below.
Get Published - Build a Following
The Energy Central Power Industry Network is based on one core idea - power industry professionals helping each other and advancing the industry by sharing and learning from each other.
If you have an experience or insight to share or have learned something from a conference or seminar, your peers and colleagues on Energy Central want to hear about it. It's also easy to share a link to an article you've liked or an industry resource that you think would be helpful.