Nuclear reactor restarts in Japan displacing LNG imports in 2019
Energy Information Administration - EIA - Official Energy Statistics from the U.S. Government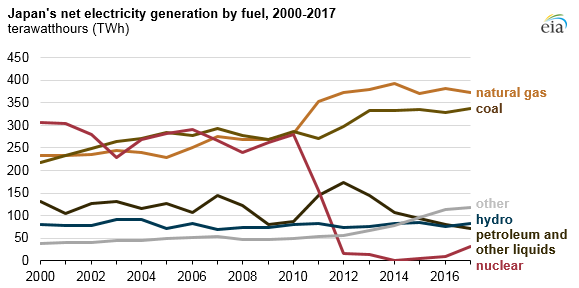 In 2018, Japan restarted five nuclear reactors that were shut down after the 2011 Fukushima accident. As those reactors return to full operation, the resulting increase in nuclear generation is likely to displace generation from fossil sources, in particular natural gas. Because Japan imports all of its natural gas in the form of liquefied natural gas (LNG), increased nuclear power production is likely to reduce Japanese imports of LNG in the electric power sector by as much as 10% in 2019.
Japan now has nine operating nuclear units with a total electricity generation capacity of 8.7 gigawatts. Electricity generation produced by natural gas-fired plants in Japan has been declining annually from its peak in 2014 and is likely to decline further in 2019, while generation from nuclear units will likely increase.
Thank Matt for the Post!
Energy Central contributors share their experience and insights for the benefit of other Members (like you). Please show them your appreciation by leaving a comment, 'liking' this post, or following this Member.