This special interest group is for professionals to connect and discuss all types of carbon-free power alternatives, including nuclear, renewable, tidal and more.
Post
New Jobs Reports Detail Pandemic's Grim Impact on U.S. Renewables
The far-reaching implications of a global pandemic has disrupted every facet of the economy. Local markets across the nation are reeling in response to an economic downturn previously unheard of in scope and size.
Clean energy—a fast-growing industry only months ago and a significant job creator for more than a decade—is now dealing with rampant job loss, as new development activities and investments have been stifled in the wake of COVID-19.
A newly released jobs study based on The U.S. Department of Labor data analyzed by BW Research found that 594,300 jobs in clean energy have been lost since the start of the global pandemic, which amounts to a 17 percent decrease in clean energy employment overall. The study was sponsored by the E2, the American Council on Renewable Energy (ACORE), and E4TheFuture.
Source: Clean Energy Employment Initial Impacts from the COVID-19 Economic Crisis, April 2020, e2.org
Energy efficiency, the largest clean energy sector, lost 310,200 jobs in April, nearly 14 percent of the sector. The disappearing energy efficiency jobs account for 7 out of 10 clean energy jobs lost in the month. Overall, the energy efficiency sector has seen 413,500 lost jobs since the pandemic began. 
"The COVID-19 pandemic is delivering an unprecedented blow to renewable industry workers, whose job losses more than tripled over the past month," said ACORE President and CEO Gregory Wetstone.
Their last estimate of a half a million jobs lost by the end of June has already been surpassed. They now conservatively project that the clean energy sector will lose about 850,000 jobs by the end of the second quarter unless Congress takes action on behalf of clean energy industries and their workers.
"Congress can help get these Americans back to work, and help get our economy back on track, with commonsense relief for time-sensitive tax credit deadlines and temporary refundability for renewable tax credits that are increasingly difficult to monetize," urged Wetstone.
A separate jobs analysis from the Solar Energy Industries Association (SEIA) aligns closely with the BW Research data.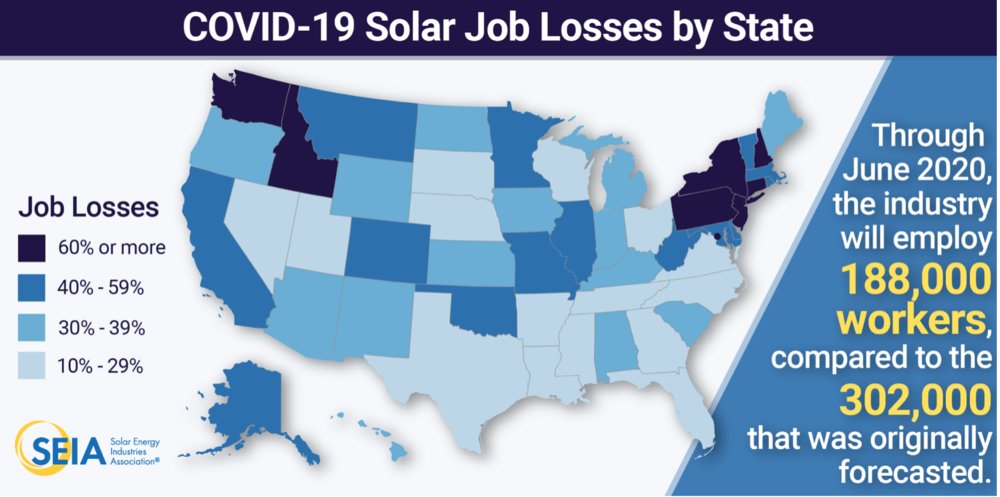 The analysis shows that all 50 states have experienced job losses in the solar industry. To date, 65,000 U.S. solar jobs have been lost since February as a result of the pandemic.
 In recent years the Solar industry has experienced tremendous growth, but now nearly half the states in the country will employ at least 1,000 fewer solar workers in June due to the economic damage brought on by the virus and the nearly complete shutdown that followed.
SEIA's analysis finds that the overall solar job losses due to the pandemic will erase five years of steady growth in the U.S. solar industry, effectively reducing the workforce to 2014 numbers.
"Thousands of solar workers are being laid off each week, but with swift action from Congress, we know that solar can be a crucial part of our economic recovery," said Abigail Ross Hopper, president and CEO of SEIA. "With a few simple changes, Congress has an opportunity to save solar jobs, rebuild our economy, and advance clean energy even as policymakers address this very real public health crisis."
Fast and decisive congressional action to stave off job loss in clean energy sectors will create a lifeline for one of the most critical sectors in the nation. These jobs reports should be seen as a clear indication that any stimulus legislation passed by Congress must contain financial support for the future of America's energy industry, and the Energy Choice Coalition urges lawmakers to consider the recent recommendations of several clean energy industries. 
Robert Dillon
Discussions
Spell checking: Press the CTRL or COMMAND key then click on the underlined misspelled word.
No discussions yet. Start a discussion below.
Get Published - Build a Following
The Energy Central Power Industry Network is based on one core idea - power industry professionals helping each other and advancing the industry by sharing and learning from each other.
If you have an experience or insight to share or have learned something from a conference or seminar, your peers and colleagues on Energy Central want to hear about it. It's also easy to share a link to an article you've liked or an industry resource that you think would be helpful.