New Alloy Material Approved for Use in High-Temperature Nuclear Plants
For the first time in 30 years, a new metal has cracked "the code." The American Society of Mechanical Engineers recently added Alloy 617 into its Boiler and Pressure Vessel Code. The new addition is the sixth material cleared for use in high-temperature reactors and could allow new designs to operate at even higher temperatures. The milestone ends a successful decade-long project by the U.S. Department of Energy (DOE) that consisted of researchers from Argonne, Oak Ridge and Idaho National Laboratories (INL). "It's a pretty substantial accomplishment," said INL Project Manager Richard Wright. "This means designers working on new high-temperature nuclear plants now have 20% more options when it comes to component construction materials."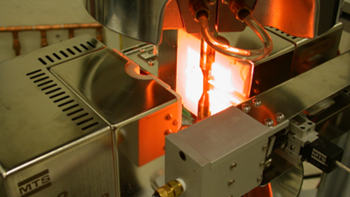 Ever since the Molten Salt Reactor Experiment ended at Oak Ridge National Laboratory in 1972, the idea of a commercial molten salt power reactor has captivated nuclear engineers. The idea is simple: instead of generating heat by inserting radioactive fuel rods into a solid-core reactor, pulverize the uranium fuel and mix it into a fluid of molten lithium fluoride salt. The heated salt could then be used to create steam to generate electricity, in a process not unlike that used in modern combustion plants.
Molten-salt reactors (MSRs) have, from the start, posed a number of technical challenges, not the least of which was finding a material to make a reactor vessel capable of withstanding the high heat required (700ºC). This week that milestone was achieved when a new durable steel alloy, christened "Alloy 617", was found to be capable of withstanding 950ºC, passing a critical milestone in the development of safe, gigawatt-scale nuclear reactors.
Thank Bob for the Post!
Energy Central contributors share their experience and insights for the benefit of other Members (like you). Please show them your appreciation by leaving a comment, 'liking' this post, or following this Member.