Natural gas-fired reciprocating engines are being deployed more to balance renewables - Today in Energy - U.S. Energy Information Administration (EIA)
Energy Information Administration - EIA - Official Energy Statistics from the U.S. Government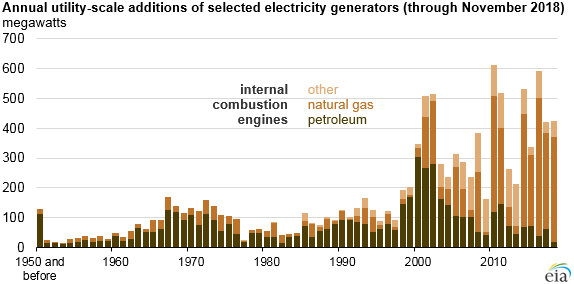 Reciprocating internal combustion engines, which are typically used for backup, standby, or emergency power, are now becoming increasingly popular for larger utility-scale power generation applications, especially in areas with high levels of electricity generation from intermittent sources such as wind and solar. The recent increase in natural gas or dual-fuel capable reciprocating internal combustion engine units has been driven in part by advancements in engine technology that increase operational flexibility and by changes in natural gas markets that have generally provided ample supply and relatively stable fuel prices.
Thank Matt for the Post!
Energy Central contributors share their experience and insights for the benefit of other Members (like you). Please show them your appreciation by leaving a comment, 'liking' this post, or following this Member.