This special interest group is for professionals to connect and discuss all types of carbon-free power alternatives, including nuclear, renewable, tidal and more.
Shared Link
Latest NREL Data Book Shows U.S. Renewable Capacity Surpassed 20% for First Time in 2018
Key insights:
This NREL report provides clear evidence that Peak Demand no longer represents Peak Consumption
The 2018 Renewable Energy Data Book compiles the latest available statistics for the 2018 calendar year. Other key findings from the data include:
Overall U.S. energy consumption increased 3.5% (from 97.5 to 101.2 quadrillion British thermal units) between 2017 and 2018, the largest increase since 2010.
U.S. solar photovoltaic capacity increased by 20.6% (8.9 GW), accounting for more than 52.9% of newly installed U.S. renewable electricity capacity in 2018.
Wind capacity increased 8.4% (7.5 GW), representing more than 44.9% of newly installed renewable capacity in 2018.
Renewable-paired energy storage capacity in the United States expanded by 5.6% (76 MW) in 2018, up from a 2.4% increase in 2017.
U.S. natural gas-fired generation capacity accounted for 56.4% (21.8 GW) of all new U.S. capacity installed in 2018, accounting for a net addition of 15.1 GW after retirements.
Renewable energy generation as a percentage of total U.S. electricity generation remained unchanged—17.6% (741 TWh) in 2018.
The share of natural gas generation rose to 34.9% (1.468 TWh) from 31.9% in 2017.
Nearly 361,000 electric vehicles were sold in the United States in 2018 —an increase of over 84% from 2017—representing over 2% of total light-duty vehicle sales.
This latest edition includes a new section on the voluntary procurement of renewable energy in the United States; in total, some 966,000 customers procured 9.6 million megawatt-hours of renewable electricity through voluntary procurement mechanisms
Latest NREL Data Book Shows U.S. Renewable Capacity Surpassed 20% for First Time in 2018
New edition also shows continued growth in U.S. installed wind and solar photovoltaic capacity, energy storage, and electric vehicle sales.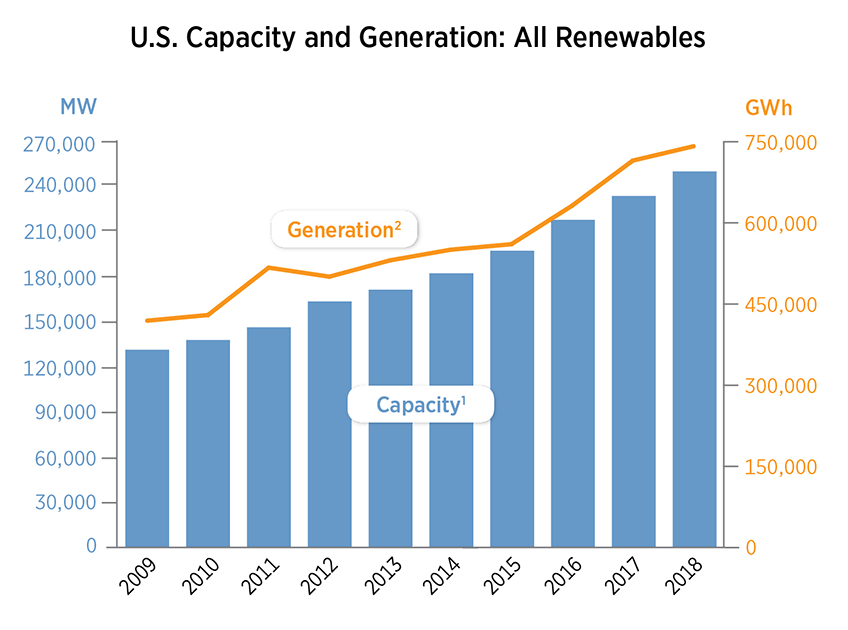 Discussions
Spell checking: Press the CTRL or COMMAND key then click on the underlined misspelled word.
Get Published - Build a Following
The Energy Central Power Industry Network is based on one core idea - power industry professionals helping each other and advancing the industry by sharing and learning from each other.
If you have an experience or insight to share or have learned something from a conference or seminar, your peers and colleagues on Energy Central want to hear about it. It's also easy to share a link to an article you've liked or an industry resource that you think would be helpful.