This special interest group is for professionals to connect and discuss all types of carbon-free power alternatives, including nuclear, renewable, tidal and more.
Shared Link
How hydrogen became the talk of the town at COP26
Nov 13, 2021 11:22 am GMT
How hydrogen became the talk of the town at COP26
Grey, blue, green or turquoise ... whatever the flavour, hydrogen emerged as the Glasgow summit's great white hope
Walking through the vast COP26 summit in Glasgow, the first impression was always of an unfettered, almost unmanageable, political bazaar.
In the main hall of 80-plus pavilions, a bewildering array of countries, collectives and companies were cheek by jowl, offering coffee and consciousness-raising, pop-ups and propaganda, dealmaking and debate.
Further down the cavernous building, the 197 country delegations had their offices. Bureaucrats could be seen scuttling between them, frantically trying to stitch together a set of summit conclusions. Then there was a battery of meeting rooms, where a seemingly endless series of press conferences and seminars unfolded.
And in the corridors, the world's cosmopolitan climate elite networked, or sometimes staged Instagram-ready protest moments, as journalists stalked potential interviewees, and a battalion of security guards scouted for trouble.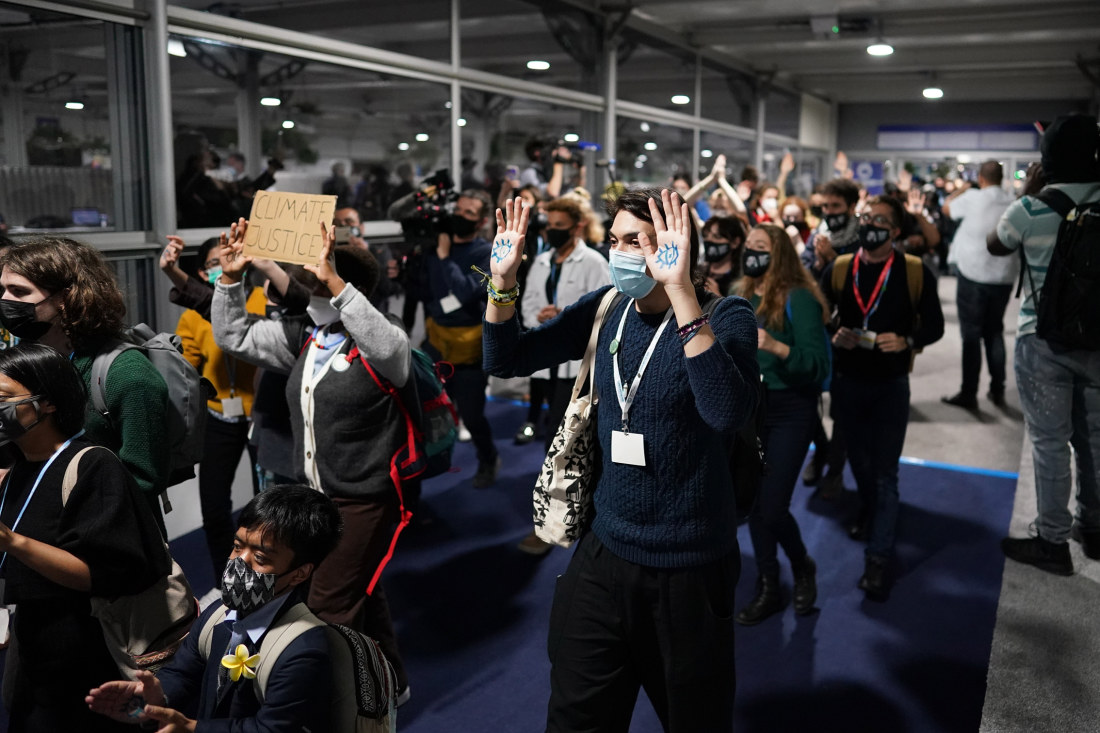 Protesters inside the Glasgow summit venue. Getty
But amid the clutter, noise, and haste of 40,000 people gathered under one roof, or set of roofs, common themes and ideas eventually began to emerge. From the participants' perspective, what, actually, was this COP all about?
Sitting in the upstairs room of the Australia pavilion, Ian Learmonth, CEO of the Clean Energy Finance Corp, and Darren Miller, boss of the Australian Renewable Energy Agency, agreed that one subject in particular had come up again and again: hydrogen.
"We've been talking about hydrogen for decades, but it feels like never has there been so much energy, effort, capital and technological ingenuity put into it," Learmonth told an Australia-organised panel.
Almost every country's pavilion ran an event on hydrogen. Many had their hydrogen strategy or plan pinned to the wall. And even when the topic wasn't hydrogen, somehow it always came up.
RELATED
Great white hope
The COP was overshadowed by a growing fear that governments couldn't or wouldn't agree to do enough, nor quickly enough, to arrest runaway global warming. From within that anxious pall, hydrogen – whether grey, blue, turquoise or green – emerged as the great white hope.
Although hydrogen is hard to compress and transport, and can be leaky and flammable, the planet-friendly menu of use-cases is compelling. It can act as the storage mechanism for intermittent renewable energy. It can become the fuel for trucks, ships and planes. It can travel down domestic natural gas pipelines and heat people's homes.
At a trepidatious COP26, the hydrogen revolution felt like a lifebuoy of hope, and everyone was keen to grab hold.
"COP26 has put green hydrogen firmly on the map," declared Fortescue Metals Group boss Andrew Forrest as he prepared to leave town after a high-profile few weeks touting his new passion.
How hydrogen became the talk of the town at COP26
Grey, blue, green or turquoise ... whatever the flavour, hydrogen emerged as the Glasgow summit's great white hope.
Discussions
Get Published - Build a Following
The Energy Central Power Industry Network® is based on one core idea - power industry professionals helping each other and advancing the industry by sharing and learning from each other.
If you have an experience or insight to share or have learned something from a conference or seminar, your peers and colleagues on Energy Central want to hear about it. It's also easy to share a link to an article you've liked or an industry resource that you think would be helpful.