The Generation Professionals Group is for utility professionals who work in biomass, coal, gas/oil, hydro, natural gas, or nuclear power generation fields. 
Shared Link
Germany's Lützerath: The village standing in the way of the last open-cast coal mine
Lunar landscape

The energy company is a major economic player in this rich and industrialized region. On October 4, RWE announced that it had signed a historic agreement with the regional Green MPs and the Federal Minister for the Economy and Climate, the environmentalist Robert Habeck: The company has committed to definitively cease mining Rhine coal in 2030, rather than 2038, as originally planned. According to RWE and the Greens, 280 million metric tons of coal will remain underground and the last villages that were due to be destroyed will be preserved. All except one: Lützerath.
Germany's Lützerath: The village standing in the way of the last open-cast coal mine
In this abandoned hamlet, which has become a symbol in the fight against climate change, activists want to block the advance of the last open-cast coal mine in the Rhine basin.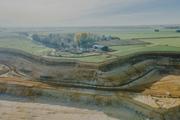 Discussions
No discussions yet. Start a discussion below.
Get Published - Build a Following
The Energy Central Power Industry Network® is based on one core idea - power industry professionals helping each other and advancing the industry by sharing and learning from each other.
If you have an experience or insight to share or have learned something from a conference or seminar, your peers and colleagues on Energy Central want to hear about it. It's also easy to share a link to an article you've liked or an industry resource that you think would be helpful.