This special interest group is for professionals to connect and discuss all types of carbon-free power alternatives, including nuclear, renewable, tidal and more.
Shared Link
Crown Estate Scotland confirms ScotWind 2 is 'on the horizon'
ScotWind 2 
More than 70 bids have been lodged by developers seeking the rights to develop major offshore wind projects on the seabed around Scotland.
The ScotWind leasing auction, which is being overseen by Crown Estate Scotland (CES), is the first of its kind for a decade.
Bidders include consortia of major oil companies, utility firms and investment funds from around the world.
They include areas of the North Sea to the east of Angus, the outer Moray Firth, west of Orkney, east of Shetland and north-west of both Lewis and Islay.
CES said it was hoped that as much as 10GW of new generating capacity could be built over the next decade as a result of the project - enough to power every home in Scotland.
The auction could net the Scottish government up to £860m.
CES aims to make initial offers to successful applicants in January of next year.
Agreements will then be finalised before developers can move forward with detailed plans.
"I think that's also true with leasing. ScotWind one, as it's now called, had some clear objectives and was designed to deliver them. Those were linked to the Offshore Wind Sector Deal ambition and availability of seabeds in order to see them through.
"ScotWind two projects are more likely to deliver beyond 2030 so it'd be sensible to make sure we've got an appropriate process to give seabed exclusivity and rights to schemes looking to deliver the next phase of wind farms."
Stay informed through me and over 300 stakeholders at the: ScotWind  Professionals Group
Crown Estate Scotland confirms ScotWind 2 is 'on the horizon'
During Energy Voice's ETIDEX, Colin Maciver from Crown Estate Scotland said ScotWind 2 is "certainly on the horizon".
Source:
www.energyvoice.com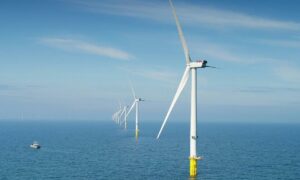 Discussions
No discussions yet. Start a discussion below.
Get Published - Build a Following
The Energy Central Power Industry Network is based on one core idea - power industry professionals helping each other and advancing the industry by sharing and learning from each other.
If you have an experience or insight to share or have learned something from a conference or seminar, your peers and colleagues on Energy Central want to hear about it. It's also easy to share a link to an article you've liked or an industry resource that you think would be helpful.