Electricity Prices are Highest in Hawaii but Expenditures are Highest in South Carolina
Hawaii has the highest residential electricity prices in the United States, averaging 27.5 cents per kilowatthour (kWh) in 2016—more than twice the national average. However, residential customers in four states spent more per household for electricity that year: South Carolina, Alabama, Connecticut, and Maryland.
Source:
www.theenergycollective.com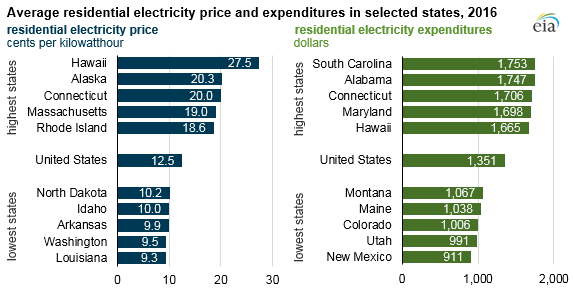 Residential electricity expenditures are a function of both electricity prices and how much electricity customers use, collectively measured as retail sales. States with different prices and usage levels can end up with similar expenditures.
Thank Stephen for the Post!
Energy Central contributors share their experience and insights for the benefit of other Members (like you). Please show them your appreciation by leaving a comment, 'liking' this post, or following this Member.